DENIED!
Yesterday I posted a piece on Samira Ibrahim, an Egyptian who was to be honored with the Secretary of State's International Women of Courage award for her work in women's rights advocacy in Egypt. Well after the amount of push back against the anti-American and anti-Semite for being included on the list, her name was withdrawn. She should have never been included.
This brings to the forefront the question of why Ibrahim was included in the first place, and who were the ones advising the State Department to place her on the list. Those who knew her best, knew about her provocative statements, yet chose to either look the other way, or agreed with her anti-Semitism and anti-Americanism.
That's THE question here, who advised the SD to place her on the list?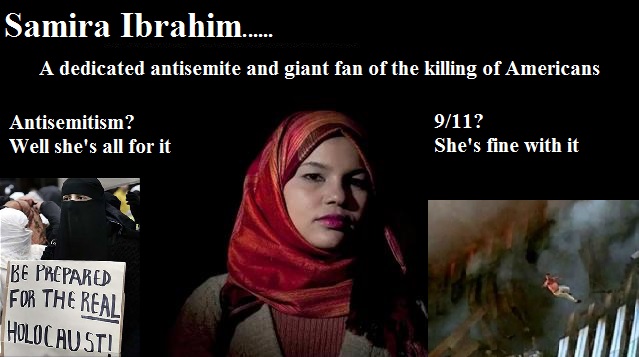 BREAKING NEWS: First Lady, Kerry WON'T Honor Hater of U.S., Jews and Jewish State
Published on ‍‍25 Adar 5773 – March 7, 2013
BREAKING NEWS: JUST AS THIS STORY WAS ABOUT TO BE PUBLISHED, THE JEWISH PRESS LEARNED THAT IBRAHIM WILL NOT RECEIVE THE AWARD AT THE CEREMONY, PENDING FURTHER REVIEW OF HER ALLEGED ANTI-SEMITIC AND ANTI-AMERICAN PUBLIC STATEMENTS. SEE UPDATE AT BOTTOM OF ARTICLE.
This Friday, March 9, is International Women's Day. First Lady Michelle Obama and Secretary of State John Kerry will mark that day by honoring ten women with the Secretary of State Women of Courage Award. Very nice. Except one of those women, Samira Ibrahim, hates the U.S., Jews and the Jewish State and she is delighted when Israelis and Americans are killed. Not so nice.
Ibrahim is being honored for doing some very brave things. She took a serious risk when she joined the protests in Cairo's Tahrir Square in 2011 against the Mubarak regime.
Ibrahim was detained by police and was one of 17 women subjected to a horrifically degrading – both conceptually and in practice – "virginity test," the goal of which was to humiliate her and to prove that only "bad" women protest. The official reason given was to protect Egyptian military from charges of rape by these women. Ibrahim also claimed to have been tortured and sexually abused while in the prison.
Rather than suffer in silence, as so many victims do, Ibrahim filed a lawsuit against the Egyptian government. "I will not give up my rights as a woman or a human being," she said at the time.
As a result of Ibrahim's legal efforts, the Egyptian government banned those tests. Good for her! But based on public utterances Ibraham made, she not only does not care about justice for those different from herself, she actually applauds the death, torture and murder of others – if they are Jews or Americans.