Cry me a river.
More "aid" money has been wasted on the Palestinian Arabs, than on any single people or ethnic group in the history of the world. And what is there to show for it? Nothing but bloated foreign bank accounts, corruption and a means to continue on the fight to destroy a sovereign nation.
The Palestinian Arabs are the poster-child of failed national movements, and that should tell you something folks, international funded welfare is a disease, it doesn't work, anymore than it does on the streets of Detroit. It only serves the interests of those who have managed to claw their way up to the upper crust of society.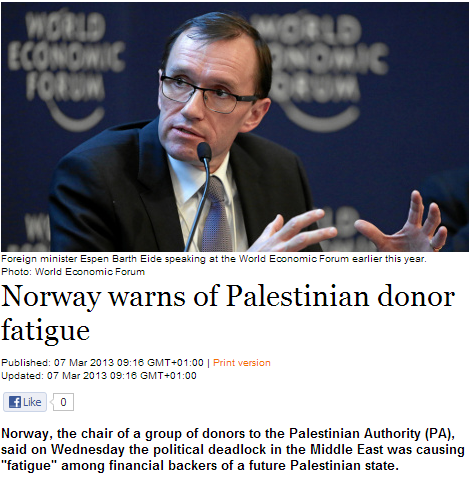 "There is a significant fatigue among many donors and a kind of questioning of whether this process leads to a Palestinian state," said the Norwegian foreign minister, Espen Barth Eide, during a meeting with journalists in Oslo.
The Ad Hoc Liaison Committee, which groups international donors to the PA,will meet in Brussels on March 19th against a backdrop of budget difficulties aggravated by non-payment of aid pledged by global donors, mainly the United States and Arab nations.
The development aid already distributed has allowed the government of Salam Fayyad to build the institutions needed for a future state, but the current political stalemate could have dramatic consequences if donors feel discouraged, Barth Eide said.
"If the sense is that this is a deadlock and it remains a deadlock … I think that the fatigue problem will be very acute. And that means that the Palestinian Authority could collapse and … then Israel would get a much more difficult neighbour," he said.
NOTE: Do take notice of the veiled threat, if you fail to cough up more dough, the Arabs will then get more restless than before, then they'll be really really really angry. Let the Arabs fund them.