To be reminded once again, that these are the very same people who summarily execute people for "collaboration with Israel", and rip the organs out of Israeli soldiers who happen to stray into the wrong area at the wrong time, throw opposition of the roofs of tall buildings and murder fellow Arabs for selling a home to a Jew.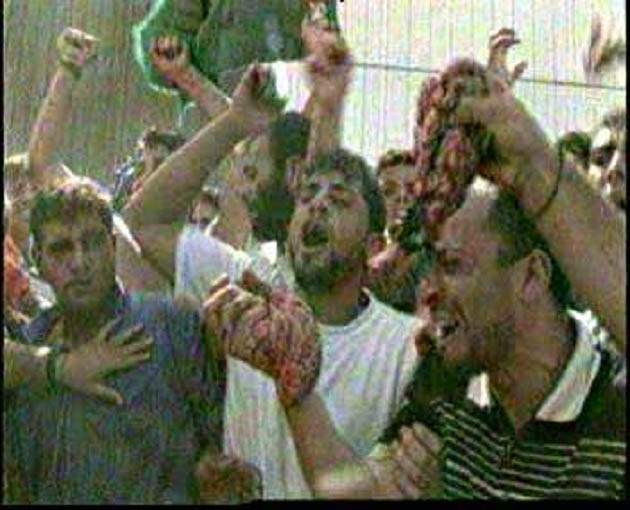 IDF on high alert ahead of Palestinian prisoner funeral
By JPOST.COM STAFF, HERB KEINON, KHALED ABU TOAMEH
02/25/2013 08:46
Security sources prepare for more rioting in the West Bank following funeral of Arafat Jaradat, who the PA claim died of torture during interrogation; Israel Health Ministry says autopsy did not reveal cause of death.
The IDF was on high alert Monday in the West Bank ahead of the funeral of Arafat Jaradat, the Palestinian prisoner who died of cardiac arrest in Meggido Prison on Saturday and whose family claims was brutally tortured, Israel Radio reported.
Jaradat's death triggered fresh protests in the West Bank on Sunday, with hundreds of Palestinians taking to the streets and clashing with IDF soldiers.
Clashes were reported in Hebron, Ramallah and Bethlehem, Palestinian sources said. At least 36 Palestinians were wounded during confrontations with soldiers, the sources added.
On Sunday, Jaradat's body was handed over to his family in Sa'ir, near Hebron, where he is expected to be buried on Monday.
The Palestinian Authority on Saturday strongly condemned Jaradat's death and called for a UN investigation into the case.
PA Minister for Prisoners' Affairs Issa Qaraqi claimed that Jaradat had been subjected to severe torture. An autopsy performed on Jaradat's body "proved that he had been severely tortured" while in detention, Qaraqi told reporters in Ramallah.
The autopsy did not provide any evidence that Jaradat had died of a heart attack, as Israel maintained, Qaraqi said. The claim of a heart attack was a "lie" and he held Israel fully responsible for "this cruel crime," he said.
PA Central Committee member Jibril Rajoub told Channel 2 that he held Israel responsible for Jaradat's death. The current riots were not a third intifada but were a protest that underlined the importance and sensitivity of the prisoner issue to the Palestinians, Rajoub added.
However, Israel says no signs of violence were shown in Jaradat's autopsy. Israel Radio reported that the results of the investigation into the cause of his death at Megiddo Prison on Saturday were inconclusive.
The Health Ministry said the injuries found in the autopsy could have been caused by the medical emergency team's efforts to resuscitate Jaradat.
It listed bruising on his shoulder, chest and elbows, as well as fractures in two of his right ribs.
"These initial findings are not enough to determine the cause of death," the ministry said.