The Norwegian media, willful propagandists and liars
This is why the fake media, regardless of where these fake journalists call home, are despised. Proper journalism based on ethical professionalism (apparently no longer in existence) would have included mention of Palestinian Arab terrorism as the major contributing factor to the legal weapons blockade enforced on Gaza by Israel.
If the Norwegian Dagbladet intended to publish a balanced report instead of regurgitating Palestinian Arab propaganda, the piece would have included the fact that Gaza shares a border with Egypt which also maintains a blockade, as well as mention something about the massive amount of goods delivered by trucks into Gaza from Israel on a daily basis.
But that wasn't the aim of the piece, the Dagbladet wanted to publish something that made the Palestinian Arabs look chic, hip or even cool. They're just like one of us! The truth however speaks otherwise, just listen to this aid worker living within the Palestinian Arab areas has to say about how they really treat their children.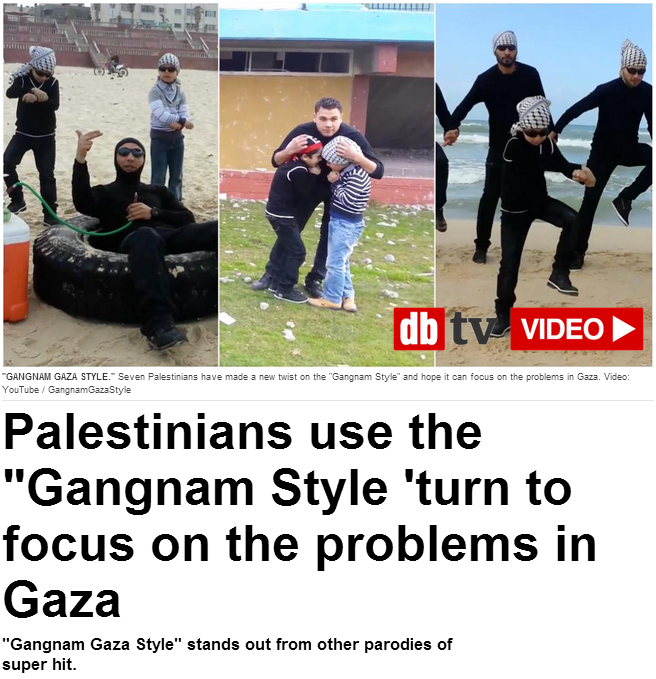 Since last summer, South Korean artist Psy's super hit, "Gangnam style" has been hummed and sung worldwide.
This is the most popular video on You Tube ever; the UN president (sic) Ban Ki Moon and NASA's astronauts are among those who have shown knowledge of the characteristic dancing steps of Psy's hit.
By now, seven Palestinians have published their "Gangnam style" video on You Tube.
Contrary to most other humorous "Gangnam Style" videos hitting the net; this has a far more serious stamp than most.
Wants focus on Gaza.
The video, named "Gangnam Gaza style", has been made to show the world how serious the living conditions of Palestinians in Gaza are; while also being entertaining.
Five grown up men and two children are dancing both the well-known "Gangnam style" and traditional Arab dance in this video; at the same time showing the realities of everyday life of the many Palestinians living under the Israeli military's occupation of Gaza.