G.Galloway is a liar, propagandist and pals with any genocidal movement aimed at the Jews and the West.
Michael Baldwin, the debate moderator, later expressed his disappointment at Mr Galloway's action. "As moderator of this debate, I was disappointed that a possibly fruitful discussion was prematurely ended by Mr Galloway's refusal to debate someone just because of their nationality. As he himself is a Palestinian citizen, he would rightly be indignant if an opponent of his were to refuse to debate him on the basis of his passport. I would encourage Mr Galloway to reconsider his position, which is open to accusations of xenophobia."
NOTE: I hear that the Israeli received a standing ovation. Brian of London at Israellycool says: "You can find a write-up of Galloway's racist and cowardly act here."
UPDATE: Dennis Mitzner at Middle East Cowboys writes of his encounter with Galloway
I attended the service with two friends and fellow students, Ali, an Iranian liberal and Nick, the president of young conservatives on campus. They both shared my antipathy for Galloway and his tactics. Little did we know that we were about to witness the infamous Galloway antics. Walking into the lecture hall, Galloway had noticed our attempts to hand out leaflets to the audience. Before starting his speech he pointed at us and asked everyone in the audience to pay close attention to the three "tory boys laughing at the plight of the Palestinians" The audience grew hostile and forced us out, throwing our leaflets, which had now become worthless paper balls, at us while hurling insults..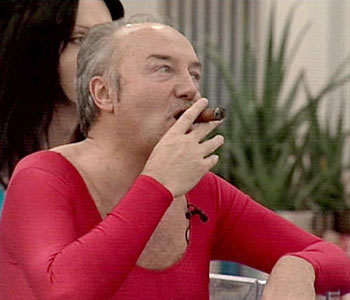 George Galloway storms from Oxford debate with Israeli
George Galloway stormed out of an Oxford University debate last night after discovering that his opponent was Israeli.
The Respect party MP, who is renowned for his staunchly pro-Palestinian stance, is reported to have declared: "I don't debate with Israelis."
Mr Galloway had spoken for ten minutes before giving away to Eylon Aslan-Levy, who was speaking against the motion "Israel should withdraw immediately from the West Bank" in a debate at Christ Church College.
A few minutes into his speech, Mr Aslan-Levy, 21, referred to the actions of Israeli using the term "us," causing Mr Galloway to ask if he was Israeli. "I have been misled," he is reported to have said. "I don't debate with Israelis, I have been misled. I don't recognise Israel and I don't debate with Israel." He then stormed out of the room, followed by his wife.
According to those present, the MP was met with jeers from the audience. The third-year politics, philosophy and economics student concluded his speech and was met with a standing ovation.
Speaking after the event, Mr Aslan-Levy, 21, who grew up in London and has joint British-Israeli citizenship, described Mr Galloway's remarks as "appalling." He told The Times: "It's deeply offensive to refuse to speak to someone because of their nationality. It's pure racism.
"The fact that a sitting member of Parliament could do this is all the more astonishing."
H/T: JH