Like Vlad mentioned some time ago, we don't need laws banning the "freedom bag", just allow laws on the books to be free followed as well as allow private businesses discriminate against who can enter their shops.. There are signs that say "no shirts or shoes, no service", so the same can be applied to people who cover their entire bodies and faces.
Philadelphia's Burqa Crisis
by Daniel Pipes
Philadelphia, the city where I live, has quietly and unassumedly become the capital of the Western world as regards female Islamic garb as an accessory to crime.
A BBC graphic shows the difference between the niqab and burqa.
First, a tutorial on Islamic coverings, all of which tend to be called veils in English but fall into three main categories. Some (the abaya, hijab, chador, jilbab, or khimar) cover parts of the body, especially the hair, neck, and shoulders, but reveal the face and identity of the woman; some cover the face (theyashmak) but show the body shape; and some hide the whole body, including the identity and gender of the wearer. The latter – our topic here – is better described as a full-body cover than a veil: it in turn has two types, those that cover the person entirely (the chadari or burqa) or those with a slit for the eyes (the haik or niqab).
[…]
As the Middle East Forum's David J. Rusin points out in his detailed survey of Philadelphia burqa crimes, Muslim garb holds two great advantages over other forms of disguise: First, many full-body covered women walk the streets without criminal intent, thereby inadvertently providing cover for thieves; the more full-body coverings around, the more likely that these will facilitate criminal activity. Second, the very strangeness and aloofness of these garments affords their wearers, including criminals, an extraordinary degree of protection. As in other cases (three purchases of alcohol in Toronto state liquor stores by a 14-year-old boy in a burqa; Muslim women not checked at Canadian airports), clerks so fear being accused of racism or "Islamophobia" that they skip state-mandated procedures, such as requiring niqabis to show their faces and establish their identities.
Video grab of a 14-year-old boy wearing a burqa in an Ontario liquor store.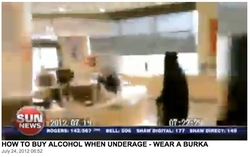 To their credit, some banks no longer allow head coverings. For example, a PNC Bank office in Philadelphia boasts a front-door sign stating: "The safety of our employees and customers is our foremost concern. We request that you remove any hats, caps, sunglasses or hoods while inside this financial institution." Such policies should reduce burqa bank robberies.