THE THREE MUSTARD MOSQUETEERS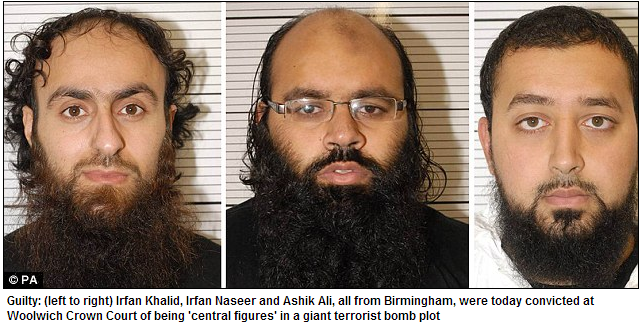 And you can be safe in assuming that there are more of these Islamic fundamentalists quietly waiting in the wings for their turn to take a shot at being successful.
UPDATE: One jihadi was so fat he was tasked with researching bomb making online.
Three men have been found guilty of planning a terrorist attack to rival 9/11 or the July 7 Tube bombings by packing eight rucksacks with explosives to cause mass casualties.
Irfan Naseer, 31, Irfan Khalid, 27, and Ashik Ali, 27, all from Birmingham, were today convicted of plotting the 'spectacular campaign' designed to claim as many lives as the 2005 London Underground bombs that killed 52 innocent people.

They were 'central figures' in an Islamic extremist plot to set off bombs and possibly other devices on timers in crowded areas in Britain.
Judge Justice Henriques said: 'You were seeking to recruit a team of suicide bombers to carry out a spectacular bombing campaign, one which would create an anniversary along the lines of 7/7 or 9/11′.
The bomb plotters had the means, the will and the know-how to carry out mass murder in the biggest terror attack on the British mainland 'in a generation', detectives said.