Enough is enough.
Everywhere you look, Muslim fundamentalists are taking advantage of the social welfare subsidies society sets aside to help people between jobs. They take advantage all the while they work to undermine the very system supporting them.
H/T: Cecilie
Progress Party requires immediate answers about Nav-money to Islamist
Would call the labor minister to Parliament – was rejected by the President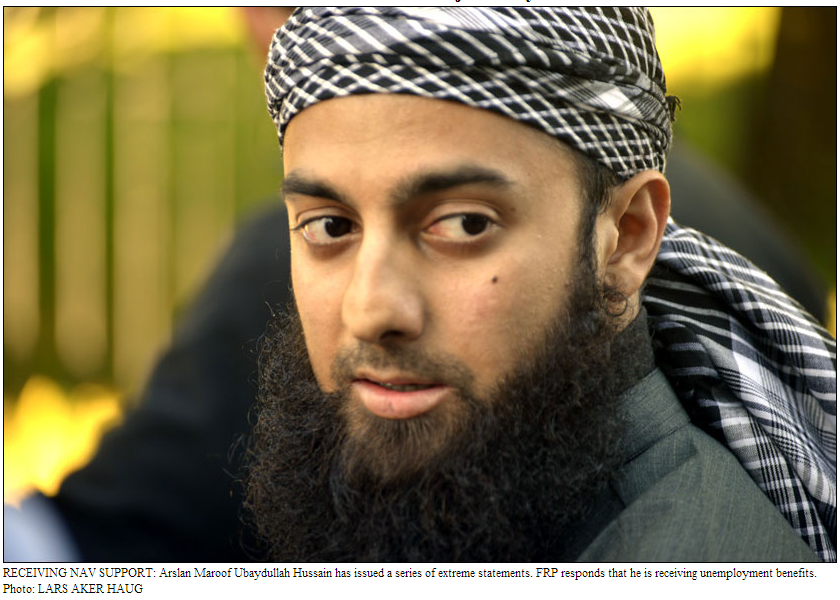 (VG Nett) Progress party demanded that labor minister, Anniken Huitfeldt (Ap) had to reconcile in Parliament on Wednesday and explain how she would stop unemployment benefits to the Prophet's Ummah spokesman Ubaydullah Hussain.
– It is revealed that Nav disburses funds to people in extreme environments. I will say that to the good Norwegian it's totally ridiculous. He receives over 19,000 dollars, the equivalent of a normal payroll for many Norwegians, leader of the Parliamentary Labour and Social Affairs, Robert Eriksson (FRP) said to VG Nett.
She said it was inconceivable that the Norwegian tax money should go to the unemployment benefits to people like Ubaydullah Hussain , spokesperson for the extremist group, Prophet's Ummah , TV 2 reported yesterday.