The Hezbollah are deeply involved in the fighting in Syria for the Assad regime.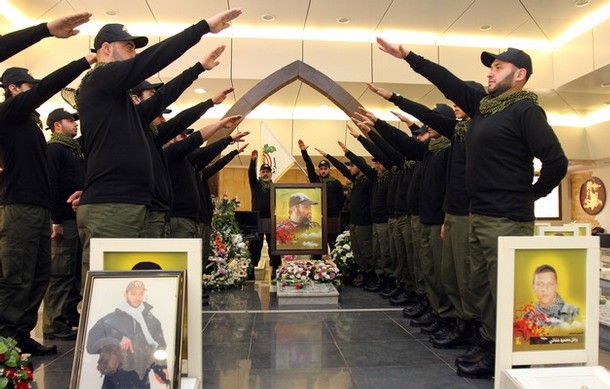 According to the SNC and Syrian Revolution General Commission (SRGC) opposition groups, Hezbollah fighters crossed into central Syria on Saturday and attacked three villages in the Qusayr region of Homs.

"The Hezbollah force moved on foot and was supported by multiple rocket launchers. The Free Syrian Army [FSA] had to call in two tanks that had been captured from the Assad army to repel the attack," SRGC spokesman Hade al-Abdallah told Reuters news agency.
Hezbollah condemned for 'attack on Syrian villages'
Hezbollah has denied sending fighters to help the Syrian regime
Syrian rebels and the opposition have accused the Lebanese Shia group Hezbollah of attacking Syrian villages.
The Syrian National Council (SNC) said Hezbollah fighters attacked three villages near the Lebanese border in support of the Syrian government.
Hezbollah said three Lebanese Shia were killed in the clashes. Hezbollah has consistently denied it has sent its members to fight for the Syrian regime.
The UN meanwhile has said human rights abuses in Syria have got worse.
In a report issued on Monday, a UN-appointed inquiry team said the conflict had become "increasingly sectarian… radicalised and militarised", according to AFP news agency.
The panel said war crimes by both sides were growing, although it said abuses by rebels were not on the same scale as those committed by government forces.
UN human rights investigator Carla del Ponte said it was time the UN Security Council referred the issue of war crimes to the International Criminal Court.
EU foreign ministers meeting in Brussels renewed sanctions – including an arms embargo – against Syria, whilst agreeing to provide more non-lethal support to rebels "for the protection of civilians".
However they did not go as far as easing the arms ban on those fighting the Syrian regime, as Britain had wanted.
Last week, the UN said it estimated 70,000 people had been killed in the conflict since the uprising against President Bashar al-Assad began nearly two years ago.
'Unprecedented invasion'
More here. Via TROP