Brilliant.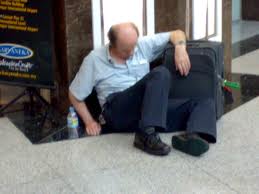 Finnish tourist flight delayed due to suspected bomb threat
Finnish tourists returning home from Las Palmas were briskly delayed  on Tuesday.
Norwegian airline flight from Las Palmas arrived at Helsinki-Vantaa airport fairly late. The airline confirms to the Iltalehti that the delay was from the plane having to be evacuated due to a suspected bomb threat. The plane was supposed to arrive at Helsinki-Vantaa already at six o'clock on Tuesday morning, but the plane landed at 09:30.
Flight DY5851 was already full with passengers on their way to Helsinki at Las Palmas airport on Monday night, when the departure had to be suddenly moved. The flight was supposed to leave at 21.40 local time.
– An intoxicated passenger at check-in was talking  something vaguely about about a bomb, Jukka Aarnio of Norwegian airline information says.
– Another passenger had heard the man talk and told the staff. For safety reasons, the plane had to be completely empty of passengers and examined, he says.