Remember folks, they're doing this to enforce the sharia.
What these Islamic fundamentalists are doing through violence in Thailand and elsewhere, their co-religionists are doing by stealth within the West, and unfortunately with greater success.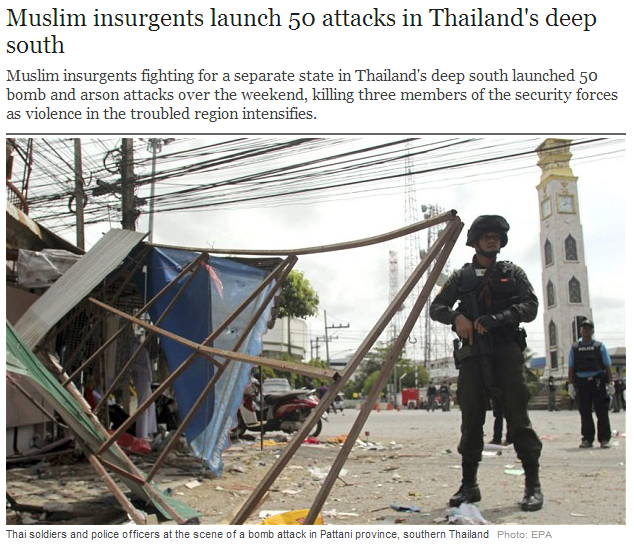 By David Eimer, Saigon 1:31PM GMT 18 Feb 2013
The three local defence volunteers died after a bomb hidden in a pile of clothes exploded outside a restaurant in Pattani Town on Sunday lunchtime.
Another nine people were injured in the blast.
A coordinated campaign of terror started at 6pm local time on Saturday, when seven bombs were planted outside shops, supermarkets and a karaoke bar in Pattani Town, the capital of Pattani Province, one of the three southernmost provinces of Thailand with a Muslim majority population.
Bomb disposal experts defused five of the bombs. But further devices were detonated later that night and on Sunday, while a wave of arson attacks gutted shops in Pattani Town and targeted mobile phone towers, security cameras and local defence bases elsewhere in Pattani Province.
"Intelligence estimates suggest there were 50 coordinated attacks. We managed to prevent attacks in eight spots," Police Major General Ekkaphob Prasitwattanachai told local media.