A hero gone, but not forgotten.
If Ahmed Rajib lived in the West, the media would smearing him as a racist and Islamofauxbe, as well as hinting that "he had it coming". Being against the fundamentals of Islam is enough to earn you the "iron triangle's scorn (political self anointed elite, media and academia), and in the Muslim world, a death sentence.
H/T: Vlad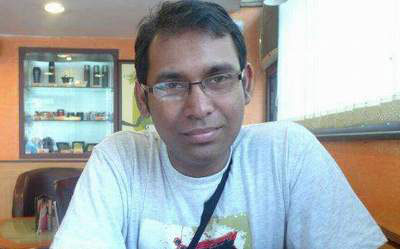 Anti-Islamist blogger killed in Bangladesh
A Bangladesh blogger has been killed after he played a large role in organizing big anti-Islamist protests in Dhaka
AFP , Saturday 16 Feb 2013
A blogger who had been critical of Bangladesh's Islamist groups was killed in the capital late Friday, police said, a day after he attended a big rally against leaders of the country's largest Islamic party.
Protests championed by the country's bloggers have seen thousands of people take to the streets demanding the execution of leaders of the Jamaat-e-Islami party who are under trial for war crimes. Clashes between police and Islamist protesters demanding the trials be halted have also rocked the capital.
Police found the body of Ahmed Rajib, 35 — better known by his online identity Thaba Baba — near his home in Dhaka's Pallabi suburb, with his head hacked apart with a machete.
"We recovered the machete. It is clear the attacker wanted to murder him. They did not touch his laptop or other valuable objects," police official Sheikh Motiur Rahman told AFP.
Police have not commented on a possible motive for the killing, but Rahman, citing Rajib's relatives, said the blogger played a large role in organising the anti-Islamist protests.