Now tell me, how is the Fatah any less fascistic than the Hamas?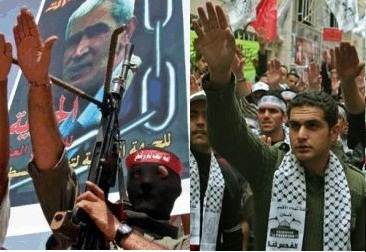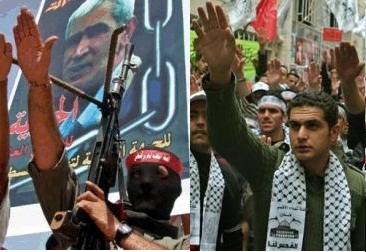 The Fatah should be placed on the exact same list as the Hamas as well. The charade of Fatah being a viable, non-terrorist (secular) entity has gone on long enough.
Dr. Jonathan Schanzer, vice president for research at the Foundation for Defense of Democracies and a leading expert on the Hamas/Fatah rivalry, tweeted on Friday: "Did the PLO mission in Bulgaria play a role in the eviction of the Hamas delegation? Why else would it be involved?" On Saturday, when the Post reported that Bardaweel and other Hamas officials in the Gaza Strip said the Palestinian Authority Foreign Ministry contributed to the decision to expel the Hamas representatives, Schanzer's view was confirmed.
Analysis: Making sense of Hamas's visit to Bulgaria
By BENJAMIN WEINTHAL, JERUSALEM POST CORRESPONDENT
02/17/2013 03:32
The hello-goodbye Hamas affair coincides with swirl of debate over Bulgaria report attributing Burgas bus explosion to Hezbollah.
BERLIN – The arrival of three Hamas representatives in Bulgaria last week – believed to have obtained their visas in Cairo – and their forced exit on Friday after less than 48 hours on EU territory appears to have caught Bulgarian authorities and politicians off guard.
After the European Union largely aligned itself with Israel's right to respond to rocket attacks from the Hamas-controlled Gaza Strip during November's Pillar of Defense operation, the status of Hamas as an anti-peace political pariah among a majority of Western liberal democracies is still intact, although the terrorist organization continues to crave political legitimacy. Bulgaria has quickly internalized the Hamas security threat.
"During their stay in Bulgaria we obtained information that their presence was creating a serious threat to national security," Bulgaria's National Services domestic intelligence agency said in a statement on Friday.
The hello-goodbye Hamas affair coincides with a swirl of debate over Bulgarian Interior Minister Tsvetan Tsvetanov's report attributing the Burgas bus explosion to Hezbollah operatives, which resulted in the deaths of five Israelis and their Bulgarian bus driver in July.