Nothing like keeping your options open.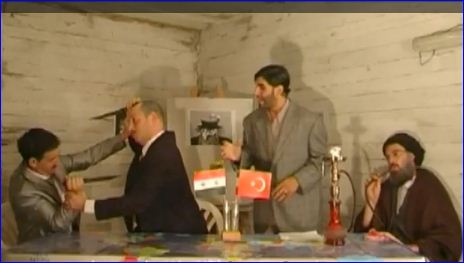 In the Muslim Middle East, the double back stab has long been a perfected art, it's what keeps them on their toes. It also explains why diverse enemies like the Sunni and Shiites can suddenly build coalitions, and why Saddam Hussein was allowed to park his entire air force inside Iran while coalition forces dislodged him from Quwait.
'Iran building militias in Syria in case Assad falls'
By JPOST.COM STAFF
02/11/2013 00:40
'Washington Post' quotes US, Arab officials as saying 50,000 militiamen backed by Iran and Hezbollah fighting to keep Assad in power, but with long-term goal of maintaining Tehran's influence in the country should Assad fall.
Iran is preparing to preserve its influence in Syria in the event that its ally President Bashar Assad should be removed from power by building a network of militias in the country along with Hezbollah, The Washington Post reported on Sunday, citing US and Middle East officials.
According to the officials, the militias are currently fighting alongside Assad's forces to keep the embattled leader in power. They believe, however, that the militias are actually in place to serve Tehran's long-term goal of maintaining operatives in the country to act in Iran's interest in Syria if the opposition forces should succeed in unseating Assad.