This is how statists thinks.
Handing over yet more taxpayer money to an over bloated EU bureaucracy the average Finn has next to little influence over. Look at the picture, of Jyrki Katainen, the Finnish PM shaking hands with the evil troll, the fake EU president, Herman Van Rompuy.
They couldn't be more pleased with themselves. Their big, expansive wealth distribution schemes, in spite of all the trouble that their 'Rube Golberg" plans (over the big bailouts) have caused, they continue to scheme, connive and plot with little or no interference (except from a few small parties like UKIP) or objection from the media.
Katainen and the National Coalition (Kokoomus) are not conservatives, they're state administrators that approve of some basic capitalist economic policies. They like to "organize society" as much as their Leftist statists colleagues do, where they differ is just a matter of nuance, big government coupled political expediency is their guiding philosophy.
NOTE: I'm not sold on the Finns party either, their political platform is wealth distribution based as almost as much as the other parties as well. The reason I like them, for the moment, is that they continue to stick a thumb in the eye of the EU.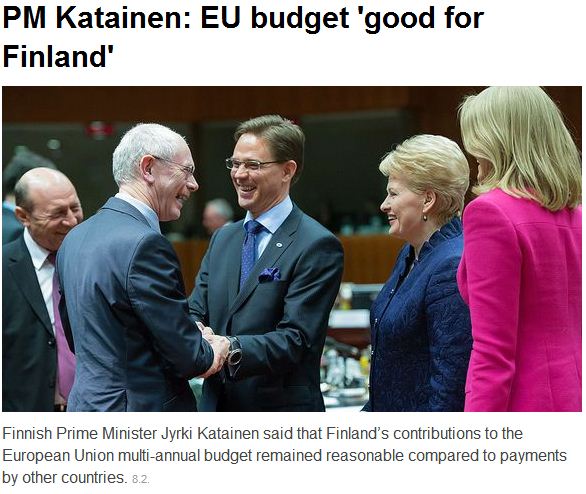 Yle: Prime Minister Jyrki Katainen said that Finland had met its negotiating goals during European Union budget negotiations in Brussels Friday. The premier said that Finland successfully ensured that its contributions to Brussels will remain at the same level as those of Denmark, Austria and France.
Finland also aimed for additional support measures such as research funding to boost growth and competitiveness.
"We succeeded in both of our goals," Katainen said following the historic budget session.
The premier said that the outcome of the budget talks were especially good for Finland and for Europe. The 2014 – 2020 budget framework marked the first time that the multi-annual budget had been cut. YLE
Yeah, we see how that budget will remain "fiscally sound", it's all smoke and mirrors: