I just wish he was citizen of Cuba or North Korea.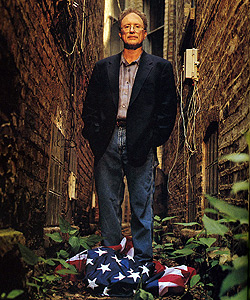 The article tries some major spinning on the Obama-Ayers relationship. Obama had his political coming out party at the Ayers' residence, you have to be politically close for something like that to have occurred. All the radicals Obama rubbed elbows with during his 20 yrs in Chicago, were the same ones rubbing elbows with Ayers, they were friends alright, you can bank on it.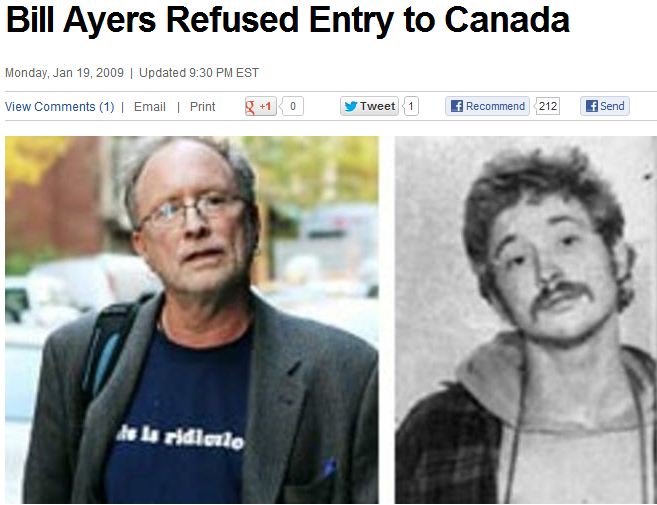 William Ayers, a former U.S. radical who featured prominently in Republican efforts to thwart Barack Obama's election campaign, has been denied entry to Canada.
The University of Toronto's Centre for Urban Schooling issued a statement Monday saying Ayers was denied entry to Canada on Sunday night.
Forty years ago Ayers was a member of the Weather Underground, a radical group that claimed responsibility for a series of bombings, including nonfatal explosions at the Pentagon and U.S. Capitol.
Ayers was a fugitive for years but after surrendering in 1980 the charges were dropped because of prosecutorial misconduct.
Obama had a very limited relationship (TT: not true) with Ayers, whose Chicago home is in the same neighborhood. They served together on the board of a Chicago charity, and in the mid-1990s when Obama first ran for office, Ayers hosted a meet-the-candidate session for Obama at his home.
Obama has condemned Ayers' radical activities. There's no evidence the two ever were close friends or that Ayers advised Obama on policy. Ayers has said he hardly knew Obama.
The Canadian center said it was surprised Ayers, a distinguished professor, community organizer and author, would be deemed a threat by Canadian border security. It said Ayers was refused entry because of a 1969 conviction during an anti-war demonstration.
Ayers was not allowed an opportunity to meet with his lawyer, the center said. Paul Copeland, his lawyer in Canada, said he was wasn't allowed to speak to Ayers or a border supervisor.
Copeland said Ayers was denied entry at Toronto's island airport.
"I couldn't get anybody to talk to me and it doesn't surprise me," Copeland said.
Ayers told Canada's Globe and Mail newspaper that he has traveled to Canada more than a dozen times in the past.
"It seems very arbitrary," he said. "The border agent said I had a conviction for a felony from 1969. I have several arrests for misdemeanors, but not for felonies."