The unrest still restless.
H/T: Always Watching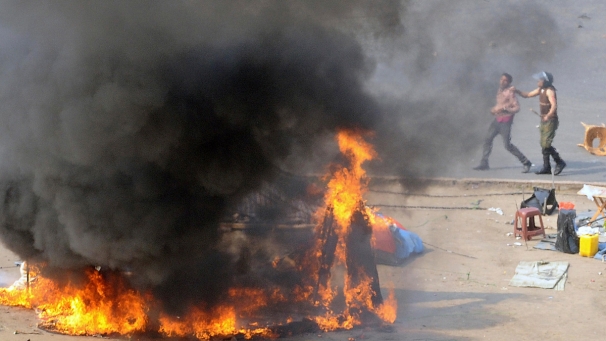 At least nine dead in Egypt's Suez
Ahram online: At least nine people have been pronounced dead in the city of Suez, as violence erupted on the Egyptian revolution's second anniversary.
Ahram Online's correspondent obtained the names of some of the deceased: Mostafa Mahmoud Eid (17), Walid El-Sayed Hussein (30), Mohamed Gharib (16), Ali Soliman (19), Mohamed Mahmoud (15), Hussein Mahmoud (36), and Mahmoud Ashour (age unknown).
Suez, which has witnessed some of the fiercest confrontations over the past couple of years, saw clashes on Friday in the vicinity of the governorate headquarters, with protesters and police throwing stones at each other, and some protesters hurling Molotov cocktails at security forces.
The building was eventually set on fire.
Meanwhile, the injury toll has exceeded 250 in nine governorates in Cairo, Alexandria, Beheira, Luxor, Kafr El-Sheikh, Ismailia, Gharbia, Sharqiya, and Suez, according to the health ministry.
In the early hours of Saturday morning, Egypt's armed forces deployed troops on the ground in the city of Suez after eight protesters and a soldier were shot dead in clashes on the second anniversary of the uprising against Hosni Mubarak.