H/T: Elder of Ziyon:  An Egyptian court sentenced to death on Saturday 21 people accused of involvement in the Port Said soccer stadium disaster in which 74 people were killed last year, the judge said.
UPDATE: 27 die in Egypt riot after soccer violence verdict (Drudge Report)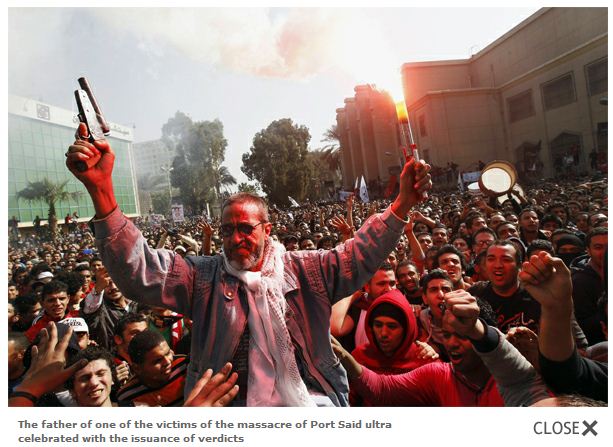 Two footballers killed in Egypt's Port Said after match violence verdict
Saturday, 26 January 2013
Relatives of victims in Cairo grieve after 21 people were sentenced to death over the football riot in Port Said that killed more than 70 people a year ago. (AFP)
By AL ARABIYA WITH al-REUTERS
Two Port Said football players were killed during the escalating clashes in the city, bringing the death toll to 24 following a court ruling that sent 21 people to the gallows for their role in one of the world's deadliest incidents in football violence.
Tamer al-Fahla, former goalkeeper of the al-Masry team, and Mohammad al-Dadhwi who played for Port Said's al-Mareekh team, were both killed after the sentence pertaining to the "Port Said Massacre" was issued. Both bodies were transferred to the hospital's morgue in the city.
The board of directors at al-Mareekh's team did not comment on the sentence, but it held the political leadership responsible for what happened.
The al-Mareekh's board announced mourning at al-Dahawi, who was going to be transferred into another football team in the Egyptian league, but the deal did not go through.