Textbook violence.
The use of 'rumors' has long been a tactic of the Islamic fundamentalists (Basic Islam 101'ers) to ignite the Muslim street into vigilantism against the non-Muslim minority. This is just one incident in a long line of many throughout the Muslim world.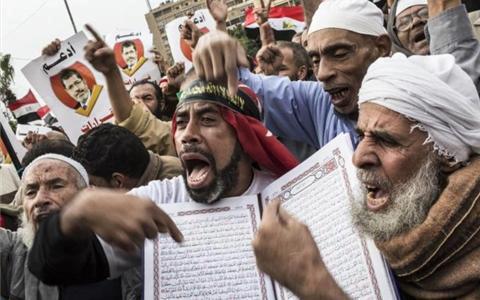 Upper Egypt, thousands of Islamic extremists attack a Christian village
The second case in less than a week. The attack took place yesterday in el-Marashda, predominantly Christian, in the province of Quena (Upper Egypt). Muslims burned at least six homes of Coptic Christians and tried to demolish the local church. Wrath unleashed at the alleged rape of a Muslim girl by a Christian. Village Iman calls on youth to protect Christian shops.
Cairo (AsiaNews / Agencies) – More attacks against the Coptic minority in Upper Egypt. A thousand Muslims attacked the predominantly Christian village of el-Marashda (province of Quena, Upper Egypt). Incited by outside religious authorities, extremists burned down homes and shops and tried to demolish the local church. The attack, which took place yesterday, was interrupted by the arrival of the police, who arrested 10 Muslims. Since yesterday evening, a crowd of radical Islamic hav eblocked access to the city, to prevent the police from taking those arrested away. The police responded by firing tear gas. For safety, the authorities ordered the Christian population not to leave their homes and the local parish has canceled the celebrations for the Coptic Orthodox epiphany. In solidarity with christian community, the Iman of the village calls on muslim youth to protect Christian shops.
Anba Kyrollos, Coptic Orthodox bishop of Nag Hammadi, said the group of extremists, including many Salafis, attacked the village in revenge for a Christian accused of abusing a Muslim girl of 6. The rumors about the pedophilia case had emerged in recent days, sparking tension between the two communities, but police investigations have cleared the man. The girl did not suffer any kind of violence. The Salafis have attacked the Christian village all the same, in spite of outcome of the inquiry.
Local sources say that the representatives of the Christian and Muslim communities, met this morning for a reconciliation. However, the police continue to patrol the town for fear of attacks.
More here. Via ZIP