They're shameless.
The demagoguery of the Democrats couldn't be any more clearer. They'll use any means to appeal to the emotional side of the populace in projecting an image to create a cult of character. Like all tyrants and dictators, they need more than their redistribution and class warfare policies to keep 'the masses' that follow them, really following them.
The use of the nation's symbols and offices to project one's own cult of character in the U.S., has been an exclusive part of Democrat strategy. Most notably in recent history, it was seen in extravagant use during the Roosevelt years.
The Left has craftily created an iconic use of the president's initials FDR, to invoke an almost god-like impression of the man, bigger than himself in living flesh and blood. The same with JFK and LBJ. What Republican (not even the GOP's most famous modern president, Ronald W.Reagan) has ever been granted the same status as these other men?
Conservative radio talk show host, Mark Levin, has been nailing the lid on Obama's and the Democrat's use of demagoguery and cult of character for years. He was one of the first who took note of Obama's co-opting past presidents' personas whenever the mood and opportunity struck. Now that the Lincoln movie is out, the populace liked it in large enough numbers, and there you have it, Obama is now Lincoln.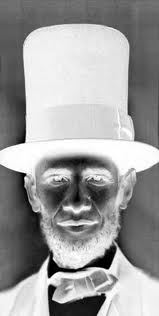 It's pure cult of character and a revolting display of demagoguery. Here's Clinton introducing the film 'Lincoln' to the Hollywood Left, this is a clear steal of America's greater presidents. Plus, they're standing up and cheering the impeached/disbarred pervert of the Oval Office. Pathetic.