Now this will be interesting.
When scandal hits the SD, they act immediately. When scandal hits the other parties,  especially if its with the SDP, it's never a scandal. The SD party chairman, Jimmie Åkesson must have plenty of tales to tell that the Swedish media shoved under the rug.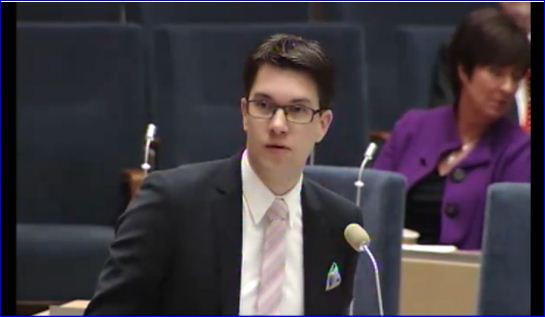 Sweden Democrats to publish tell-all book
Published: 12 Jan 13 09:30
The far-right Sweden Democrats continue to rise in voter polls amid reports that party leader Jimmie Åkesson plans to publish of a diary-style book about his enemies.
The Sweden Democrat Party polled a record 9.2 percent in a Demoskop poll published by newspaper Expressen, which also revealed that Jimme Åkesson has spent weeks writing a book to be published in the spring of 2013.
Apart from a dip in November 2012, support for the party has increased steadily since the summer, when it received six percent in the Demoskop poll.
The top rating comes despite a series of scandals that have plagued the party since November, when Expressen published video clips showing top Sweden Democrat men involved in a drunken fight in Stockholm.
According to Expressen's sources, Åkesson's forthcoming book is based on diary notes from 2010. It will be published as part of the party's new communications plan, which includes a strategy for how to grow even bigger.
Åkesson is expected to reveal details of the party's opponents and of various events and incidents which have been unknown until now.
"There are a few secrets which have not yet been exposed," one of Åkesson's co-workers said.
Sweden Democrat spokesman Linus Bylund confirmed that the book will be published by spring 2013 and said that the party must come up with new ways of expanding its support base, which is close to hitting the maximum level.
He believes the recent scandals have actually helped the party climb in the polls.
"We have received a positive spin because we handled the crises in a way that has given people confidence in us."
More here.