Assploding hypocrisy? No, not in Islam
Sheikh Ahmed bin Jassim Al Thani collected the Roosevelt Foundation's Freedom of Speech and Expression Award on behalf of Al Jazeera, the news channel that Sheikh Hamad bin Khalifa al-Thani set up in 1996.
Slander according to the sharia has nothing to do with the truth, and everything to do with perceived insult. One just has to feel slighted, regardless of the measure of truth in words said for action to be taken. Lets go once more to the video tape.
Related: ETFO workshop on Islamophobia raises eyebrows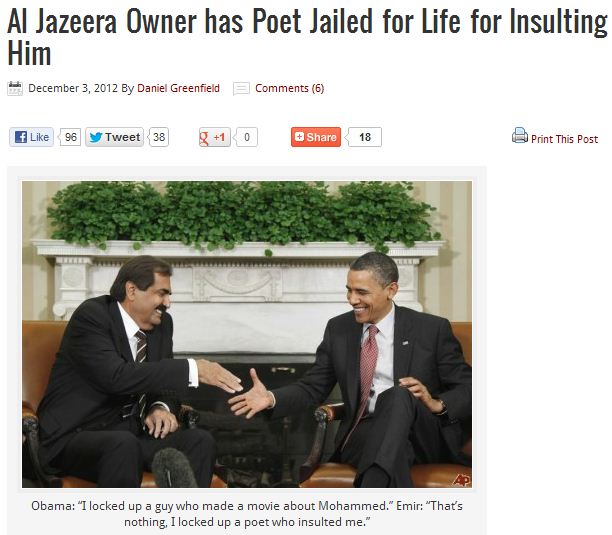 Daniel Greenfield at FPM: Remember this the next time Tom Friedman or some other media talking head praises Al Jazeera and its tyrannical owner, the Emir of Qatar, Sheikh Hamad bin Khalifa al-Thani, for their commitment to openness or freedom of speech.
This is what openness looks like in the Qatari tyranny.(Religion of Peace)
Qatar has sentenced poet Mohammad Ibn al-Dheeb al-Ajami, who was arrested for allegedly inciting to overthrow the government and insulting the emir, to life in prison, Doha News reported Thursday.

Ajami has a week to appeal the sentence, which was handed down unmotivated after a trial that Amnesty International, which is calling for his immediate release, said was held in secret, and in which the defendant was not allowed legal counsel.
What did Mohammad Ibn al-Dheeb al-Ajami do to offend the Emir of Qatar, who controls Al Jazeera?
While we understand that the poem recited by Ibn al-Dheeb included passages which could be construed as insulting to the Emir, Sheikh Hamad bin Khalifa al-Thani, there is no evidence to indicate that he has gone beyond the legitimate exercise of his right to free expression. In addition, while these passages may constitute a violation of Article 134 of the Qatari Penal Code, which provides for five years' imprisonment for criticism of the Emir, this provision of the law violates freedom of speech standards under international law.