Jealous over Fatah's successes in snookering the Euros.
Many of the Euro states (Finland included) rewarded the PLO for their intransigence, by voting yes in the UNGA vote on PLO observer status, so it's understandable why the Hamas is now pressing their Euro stooges.
Hamas nazis in black face.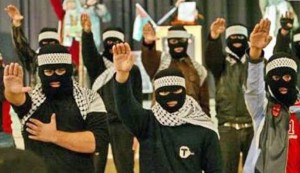 After month after month of lobbing war crimes missiles at Israeli citizens, the Islamonazis of Hamas want to be taken off the terrorist list. Mind you, this comes on the heels of their main guy still insisting on using violence against Israeli civilians as means to eventually eradicate the area of the Jewish state, hence the Jews.
NOTE: Not only should they be denied the request, the Hezbollah should be placed right underneath them on the list.
An Israeli army tank (Photo: Cau Napoli)
Hamas appeals for talks with EU diplomats
TODAY @ 09:00
GAZA – The Prime Minister of Gaza, Ismail Haniyeh, has appealed to the EU to take his political and militant group, Hamas, off its terrorist register.
Speaking to a delegation of visiting MEPs and MPs from Poland, Portugal and the UK in Gaza on Sunday (2 December), he said: "It is time to remove the Palestinian resistance from the terrorist list. Hamas is a national liberation movement which operates only inside the borders of Palestine."
"We would like you to send a message from under the rubble which you have seen here, that we are not terrorists," he added.
His spokesman, Taher Nouno, told EUobserver: "We want a direct dialogue with European leaders so that they can hear from us, not just to hear about us."