Once again why I will never support the thug Syrian rebel terrorist trying to unseat the Baathist terrorist supporting regime of Bashar Assad. Here's a picture of an earlier war crime by these thug terrorists of Syrian soldiers, who were summarily shot in a street gutter.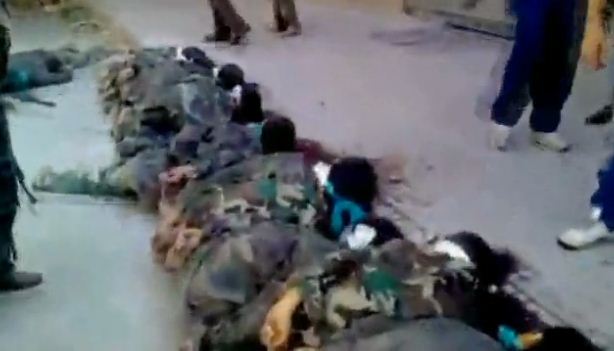 Syrian rebel films himself shooting 10 prisoners
(Reuters) – New footage posted on the Internet appears to have been filmed by a Syrian rebel who points the camera along the barrel of his gun as he shoots 10 unarmed prisoners.
The video, posted on YouTube on Thursday, shows 10 men wearing t-shirts and camouflage trousers lying face down next to a building and a lookout tower. Even before the shooting, two of the men are not moving and one has blood coming from his torso.
"I swear to God that we are peaceful," begs one of the men to the camera, which is being held by the gunman. Cowering, the man gets up to plead with rebels. As he approaches a rebel off-screen, a shot is heard and he returns holding his bloodied arm.
The cameraman then points the camera along the barrel of his Kalashnikov assault rifle as he shoots the men.
"God is great. Jabhat al-Nusra," he says, referring to the secretive al-Nusra Front, an Islamist rebel unit linked to al Qaeda that has claimed responsibility for several suicide bomb attacks around the country.
The gunman gets on the back of a pickup truck and the camera pans to show the man who had been shot in the arm still moving. More shots are fired and his body spasms.
Reuters could not immediately verify the authenticity of the footage. Comments accompanying the video said it was filmed in Ras al-Ain, a town on the border with Turkey where pitched battles have raged in recent weeks.
Human Rights Watch officials said they were also investigating the video, but could not yet confirm its veracity.
More here. Via Zip