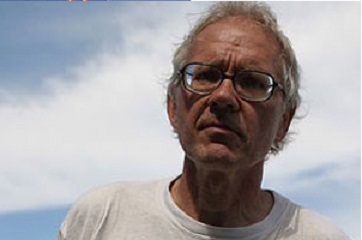 My Meeting with Lars Vilks
Posted on November 26, 2012 by Eeyore at Vlad Tepes
By Fjordman
I have been fortunate enough to meet several of the great personalities involved in the struggle against Islamic totalitarianism over the past few years. In 2012, I met two of them for the first time in southern Sweden. One of them was the Dutch politician Geert Wilders, whom I met on October 27, 2012 during a visit to Malmö.
The other one was Lars Vilks, a Swedish art theorist and self-taught artist. His life was turned upside down after 2007, when he started drawing Islam's founder Mohammad as a roundabout dog. This triggered several explicit death threats from Muslim groups. He has been living under police protection since then, especially following a statement from al-Qaida's purported leader in Iraq offering a $100,000 dollar reward for his assassination.
Mohamed the traffic circus dog
Vilks warned in the spring of 2012 that "The attacks against me are working." The strategy of physical intimidation employed by his opponents is unfortunately quite effective. He has seen his lecturing activities dry up over organizers' fears of riots and of being labeled "racist." At Karlstad University in Sweden, a lecture was interrupted by a loud group of aggressive young Muslims throwing eggs at him for showing one of his pictures inspired by the Muhammad caricature battle in neighboring Denmark.
Vilks lives in his home in a rural area of southern Sweden. In the summer of 2012 I joined a few other people who had met him before, and who had an appointment. When we arrived at his unassuming house, I discovered that a handful of Swedish police officers literally camp outside his home to provide around-the-clock protection against would-be assassins. They obviously wanted to see valid photo-IDs for each of us, preferably a passport.
I gave them one, and noticed some frantic whispers a couple of minutes later as they realized what a controversial person had just showed up unannounced. However, they quickly understood that I had done nothing criminal. I was controversial for being anti-Islamic, and was therefore very unlikely to harm Vilks.
Overall, the police left a professional impression. I don't know if they were regular police or Swedish security police (Säpo), or some combination of both, but Vilks seemed to be in good hands. An armed policeman stood guard in the door and watched us every second, ready to intervene instantly if somebody posed a physical threat.
While my companions interviewed him, I took a quick look at his bookshelves. I do this often, not to be rude, but simply because I am curious, being a man of books myself. You can tell a lot about a person by what kind of books he has on his shelves. I noticed that Lars Vilks has many books about art history and art theory, not just in the Scandinavian languages or English but also in German. He has lectured in art theory as a professor. Vilks has been criticized because his Mohammed dog cartoons don't look like the average Rembrandt painting, but that's because they are supposed to look the way they do.