UPDATE: ROCKET HITS ISRAEL AFTER CEASEFIRE BEGINS
Any bets how long the truce lasts before the Islamonazis start shelling Israeli civilians again?
In any regards, once it restarts, the Arabs and their soft headed supporters will blame the Jews for the missiles landing over their heads, and for the ground invasion that ensues.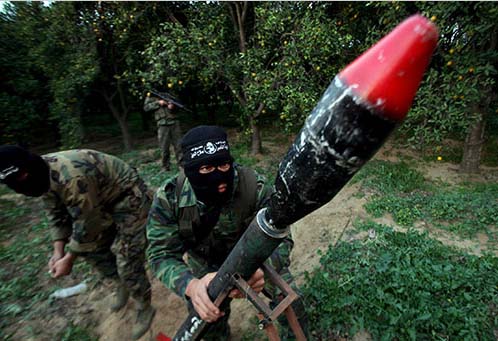 Egypt FM: Israel, Hamas cease-fire to go into effect at 9pm
By JPOST.COM STAFF, REUTERS
11/21/2012 19:29
Kamal Amr makes formal announcement of truce in joint press conference with Clinton in Cairo; sources say Israel will not lift Gaza blockade; Netanyahu tells Obama he's ready to give cease-fire a chance
Egypt announced on Wednesday that a cease-fire had been reached to end eight days of  fighting between Israel and the Palestinians in the Gaza Strip, starting at 9 p.m.
Egyptian Foreign Minister Mohamed Kamel Amr made the announcement in a joint news conference with US Secretary of State Hillary Clinton.
"These efforts … have resulted in understandings to cease fire and restore calm and halt the bloodshed that the last period has seen," Amr said.
Israel has agreed to the truce, but will not lift its blockade of Gaza as part of the deal, according to an Israeli official.
Prime Minister Binyamin Netanyahu, Defense Minister Ehud Barak and Foreign Minister Avigdor Liberman were set to  address the media at 8.30 pm. Wednesday night.
Netanyahu told US President Barack Obama on Wednesday he was ready to give a cease-fire with Hamas a chance, his office said in a statement.
"(Netanyahu) spoke a short while ago with President Barack Obama and agreed to his recommendation to give the Egyptian cease-fire proposal a chance, and in this way provide an opportunity to stabilize the situation and calm it before any more forceful action would be necessary," an Israeli statement said.