Sadly such news are no longer a shock anymore.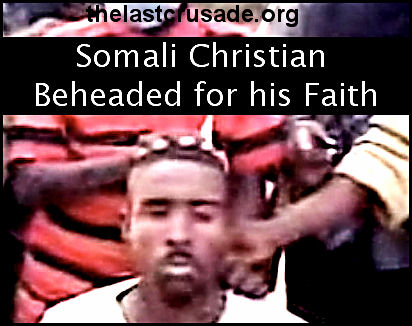 (archive photo from prior outrage)
Christian Convert from Islam Beheaded in Somalia
Islamic extremists accuse young man of being spy, embracing 'foreign religion.'
November 17, 2012 By East Africa Correspondent –
NAIROBI, Kenya (Morning Star News) – Islamic extremists from Somalia's rebel Al-Shabaab militants on Friday (Nov. 16) killed a Christian in Somalia's coastal city of Barawa, accusing him of being a spy and leaving Islam, Christian and Muslim witnesses said.
The extremists beheaded 25-year-old Farhan Haji Mose after monitoring his movements for six months, Christian sources said. Mose drew suspicion when he returned to Barawa, in Somalia's Lower Shebelle Region, in December 2011 after spending time in Kenya, underground Christians in Somalia told Morning Star News.
Kenya's population is nearly 83 percent Christian, according to Operation World, while Somalia's is close to 100 percent Muslim.
H/T: Weasel Zippers