Of course they do. The media wait with ghoulish expectation for such tragedies (that Hamas policies are to blame for) to occur, and then rush their Hamas talking points to publication. They play the notorious game of "catch me if you can" with the facts, then once the real facts are out, the news is old and the damage done, and the mission is completed.
NOTE: The main thing that should make everyone suspicious of the news media, is that the "mistakes" committed, always go in one direction, against Israel.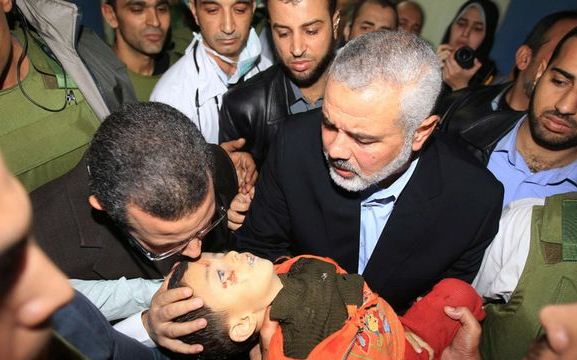 JABALIYA, Gaza Strip — The Abu Wardah family woke up on Friday morning to word that a hudna — Arabic for cease-fire — had been declared during the three-hour visit of the Egyptian prime minister to this embattled territory.
So, after two days of huddling indoors to avoid intensifying Israeli air assaults, Abed Abu Wardah, the patriarch, went to the market to buy fruits and vegetables. His 22-year-old son, Aiman, took an empty blue canister to be refilled with cooking gas. The younger children of their neighborhood, Annazla, in this town north of Gaza City went out to the dirt alley to kick a soccer ball.
But around 9:45 a.m., family members and neighbors said, an explosion struck a doorway near the Abu Wardah home, killing Aiman Abu Wardah as he returned from his errand, as well as Mahmoud Sadallah, 4, who lived next door and had refused his older cousin's pleas to stay indoors.
"What is the truce? What does it mean?" the 22-year-old's brother Mohammed, 27, asked as he mourned a few hours later.
It is unclear who was responsible for the strike on Annazla: the damage was nowhere near severe enough to have come from an Israeli F-16, raising the possibility that an errant missile fired by Palestinian militants was responsible for the deaths. What seems clear is that expectations for a pause in the fighting, for at least one family, were tragically misplaced.