What, Ashdod, Ashkelon S'derot not good enough for you guys?
The international media, sitting in the lap of luxury in a city, Gaza City that is, that's busy bombing its neighbor. NYT's Judi Rudoren chose Gaza City over Ashdod to stay, knowing she safe from Israeli bombs and not from Hamas rockets. Brian of London at Israellycool enlightens us.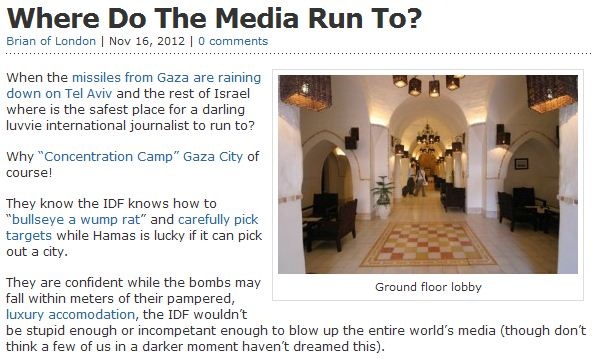 Luckily we've already featured the Al-Diera hotel in our "Taste of Concentration Camp Gaza"feature here at Israellycool! Maybe that's how they found the place?
No, its definitely safer than say, Ashdod or Ashkelon or even Rishon LeZion or Tel Aviv now that all of those massive cities have taken indiscriminate incoming fire.
So as we can see from their twitter and facebook musings, the media all scurry off to Gaza and write "human interest" pieces on the poor schlubs who Hamas are murdering. Yes, Hamas murder eveyone killed in Gaza, didn't you know that?
Here's Jodi Rudoren of the New York Times from her Facebook page: