That was quick.
What should be embarrassing for those Norwegians responsible for deciding on the recipients for this prestigious award, is that they had to be reminded of the obvious, (racists are not a good choice for a respectable award) by those of us living outside of Norway. Yes, good Norwegians objected to the award as well, but if not for outside intervention, I'm convinced that this Norwegian convert to Islam would have received the award.
UPDATE: The award has already been designated to be handed to Trond Ali Linstad, the decision to carry on with the award ceremony has been temporarily put on hold. The NIJ blog has the following: 
An embarrassing situation, which I am at pains to say, also puts His Majesty in a very awkward position, since he has little actual input in the selection, vetting and decision process. However, he has in fact signed the decision which awards Linstad with the medal. His Majesty must now decide what to do, to cancel the award (so far it is only the ceremony of actually presenting Mr. Linstad with the medal that has been put on hold), or to spare the man a devastating blow. For, in order to be fair, it is not Mr. Linstad who has requested the medal for himself, and neither has he tried to hide his very unusual, anti-semitic, homophobic and anti-democratic views. His Majesty now has to suffer the consequences of somebody doing an incredibly sloppy job in the vetting and decision process.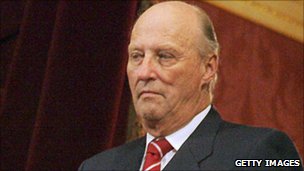 Norway nixes award for 'anti-semitic' charity head
By BENJAMIN WEINTHAL, JERUSALEM POST CORRESPONDENT
14/11/2012
Norwegian Royal Palace was set to award Islamic foundation head Trond Ali Linstad, who has been accused of anti-Semitism.
BERLIN – The Norwegian Royal Palace reportedly has dropped controversial plans to present a prestigious award to a converted Muslim who is accused of anti-Semitism.
The decision to withdraw the honor for Trond Ali Linstad was announced Tuesday after Oslo Mayor Fabian Stang canceled his participation in the award ceremony.
Linstad, 69, is a former communist activist who converted to Islam and has published texts warning of Jewish influence on media and lobbying.
Norway's Royal Medal of Merit (Silver) recognizes service in the fields of art, science and industry and outstanding public service.
Linstad – who is the founder and leader of Urtehagen, the Islamic foundation that operates kindergartens and educational programs for women – was slated to receive the award for his work in the field of immigrant education.
Stang was scheduled to present a medal to Linstad on behalf of King Harald.
"I usually award the king's service medals with pleasure, but in this case I evaluated it as problematic," Stang is quoted as telling the Norwegian daily Aftenposten this week.
The royal family's original decision to recognize Linstad had unleashed a storm of US, Israeli and Norwegian outrage.
The Anti-Defamation League issued a strong condemnation of the planned award and sent a letter to Wegger Strømmen, the Norwegian Ambassador to the US, calling on Norway to rescind it. According to the ADL, Linstad "has openly espoused various anti-Semitic conspiracy theories and has defended violence against Israel as a legitimate and 'great success."' This involves his support of the use of a recognized jihadist term for violence against Jews in the context of anti-Israel actions, the ADL said, and the term has appeared on his blog.
Indeed, an op-ed published under Linstad's name on the website Koranen.no warned readers to be "critical of the Jews in the world" who have "influence in newspapers and other media, in many political organs" and "networks."
The leading Israeli expert on Norwegian anti-Semitism, Dr. Manfred Gerstenfeld, has argued that Norway is not taking the business of fighting modern anti-Semitism seriously. He told The Jerusalem Post Tuesday, "This is not the first time King Harald is involved in scandals. Watching Norway's authorities and cultural elite for a number of years I conclude that one can expect from them the vilest manifestations of direct and indirect hatred."
"In 2010 the Norwegian embassy in Damascus even financed an exhibition there of anti-Israel hate paintings by the Norwegian painter Hakon Gullvag," Gerstenfeld said, adding that"anti- Semitic cartoons have been published regularly over the past decades in the mainstream Norwegian media.