This is the second time that I know of that a anti-tank weapon being used by the paleostinians, as I recall an Egged bus was attacked with a similar weapon last year in August.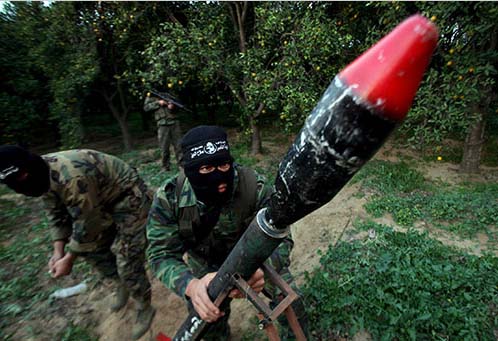 Barrage of rockets slams South in violent escalation
By YAAKOV LAPPIN, JPOST.COM STAFFLAST UPDATED: 11/10/2012 21:53
Long-range Gazan rockets fired at Israel; Iron Dome intercepts Grad; Earlier, missile hit IDF jeep patrolling Gaza border, injuring four soldiers; IDF responds with tank shelling, killing four Palestinians. PHOTO: IDF SPOKESMANS OFFICE
A barrage of rockets fired from Gaza landed in a slew of southern Israeli cities on Saturday night, as violence continued to escalate along the Gaza Strip border following an anti-tank missile attack against an IDF jeep earlier on Saturday.
Channel 10 reported 25 rockets, including eigh long-range rockets, were fired at Ashkelon, Ashdod, Sderot, the Eshkol Regional Council area and the Be'er Tuviya area, while other Israeli media outlets estimated a lower number. No injuries or damage were reported.
At least two of the rockets were Grad rockets, one of which was intercepted near Ashdod by the Iron Dome, according to the IDF.
Earlier on Saturday, Palestinian terrorists in Gaza fired an anti-tank missile at an IDF jeep carrying out an ordinary patrol on the Israeli side of the border, striking the vehicle directly and injuring four soldiers.
One soldier was in serious condition with a head injury, one is moderately wounded, and two are lightly injured. They were airlifted to the Soroka University Medical Center in Beersheba.