After Friday prayers of course…..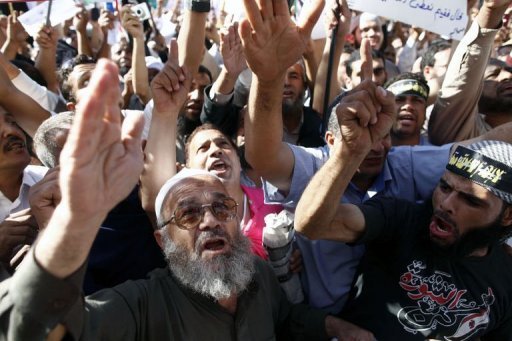 Egypt protesters call for Islamic rule
(AFP) – 8 hours ago
CAIRO — Thousands of radical Islamists demonstrated in Cairo on Friday to demand that sharia, or Islamic law, be the basis for legislation in a new constitution being drafted for Egypt.
Several thousand people rallied in Tahrir Square for the second consecutive Friday to vent their demands, an AFP correspondent reported.
"The people want implementation of God's law!" they chanted.
"The Koran (Islam's holy book) is above the constitution," read a placard strung across the emblematic Cairo landmark that was the cradle of the 2011 uprising that ousted president Hosni Mubarak from power.
"Bread, freedom, sharia," said another sign, with the word sharia replacing a call for "social reform" central to last year's uprising.
The main Al-Nur Salafist party and the influential Muslim Brotherhood, from whose ranks Mubarak's successor Mohamed Morsi comes, said they would not take part in the protest, organised by smaller radical groups.
A 100-member Constituent Assembly, dominated by Islamists, has been tasked with drafting a new constitution for post-Mubarak Egypt.