The former free state of England has been brought to its knees by the current anti-liberty political ruling class, and its dutiful media are more than willing to jump to the tune of its policies, but the French however, are showing signs of backbone, and that scares the former to its core.
Remember folks, defending Islam from criticism has nothing to do with liberty or freedom, on the contrary, it has everything to do with silencing you, stealing your hard earned freedoms while they enforce their brand of political enslavement. Never mind the facts they say, just shut the hell up and accept your servitude.
NOTE: You should take note of the way they present the cases highlighted, as being so minuscule that they possibly couldn't be representing the thinking of  a larger number of people. These same writers will also gloss over the history of Islam in a way that makes it a shining example of love & property and good will, when everyone on the ground well knows that that's a load of nonsense, spun out of whole cloth.
H/T: Fjordman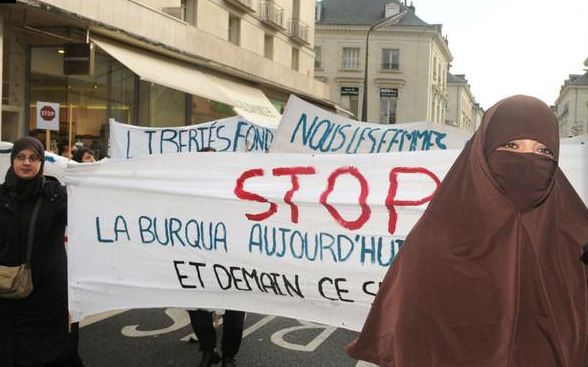 When did Islamophobic attacks become the norm for the French media?
The right wing media have hijacked France's proud secularist tradition and turned it into an attack on muslims
When last week's cover of normally stern French magazine Le Point appeared online, the consensus on social networks said it was a hoax. Le Point is no tabloid. It is a serious and well respected conservative magazine.
Running the headline: "Brazen Islam…in school cafeterias, hospitals, and swimming pools" the cover featured a niqab-clad woman arguing with a French policewoman. It had to be a joke, but sadly it wasn't.
Le Point's cover was widely condemned on social networks, and parodies of it quickly appeared. "Brazen Judaism and its garlic humus", "Brazen gays and their trimmed eyebrows," "The brazenly disabled and their parking spaces," illustrated how French Muslims probably felt when they passed the newsagent last week.
When Socialist Interior Minister Manuel Valls was asked during a popular TV talk-show whether he found the cover shocking, he brushed it off, saying "It expresses a reality." He went on to say: "What I find shocking, and what I will always find shocking, is a fully-veiled woman."
That was it. The second religion in France gets insulted on the front cover of one of the country's most popular magazines – something that could never have happened with any other religion or community, as pointed out by the numerous parodies  – and the Interior Minister, supposedly in charge of security of all French citizens, claims on a widely-watched TV show that it's fine, and no one contradicts him.