Right vs. Left, is, right vs. wrong.
NOTE: I only published a portion of the piece that contains the relevant part, the language (after the first paragraph) quickly devolves into using well known Arab boiler plate talking points. I don't need to propagate that kind of nonsense.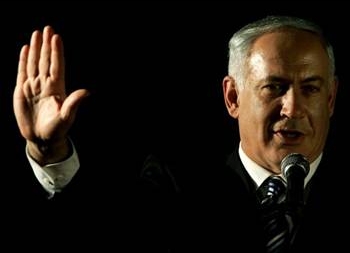 Israel: desperately seeking anti-Netanyahu candidate
Bibi favorite to win early 2013 elections, left fragmented
(ANSAmed) – ROME – The latest Israeli public opinion polls show Prime Minister Benjamin (Bibi) Netanyahu is likely to consolidate power in early elections likely to be held in late January or early February next year. With his coalition at loggerheads over a new budget, Netanyahu on Tuesday October 9 called for government to be dissolved in order to prepare for early elections. And while 45% of Israelis surveyed declared themselves satisfied with his leadership and an equal percentage declared themselves against him, his nationalist right-wing Likud party looks set to increase its Knesset (parliament) seats, with the right overall winning 68 out of 120 seats, against the 63 they presently occupy. While the fragmented leftist opposition appears to present no real threat, Netanyahu's challenge in what will be his third term in office will be to contain his own far-right allies.