The hypocrisy of the Left is so overwhelming that it's mind numbing.
The following article is the Guardian no less.
H/T: DM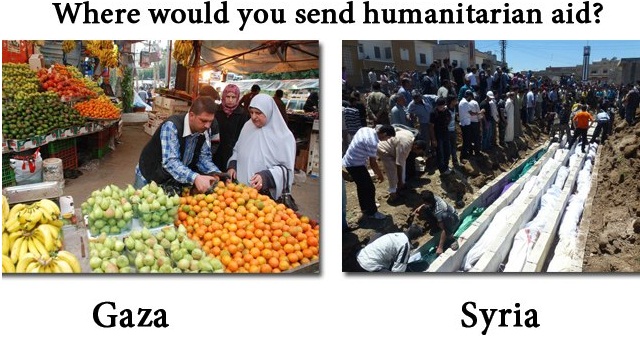 We condemn Israel. So why the silence on Syria?
When Israelis kill Arabs there is outrage. But Assad's brutal campaign has cost 30,000 lives and there've been no protests
[…]
Nearly four years ago Israel launched Operation Cast Lead, designed to halt Hamas rocket fire from Gaza. It resulted in some 1,400 Palestinian deaths. For nearly a month that story was never off the front page, and it often led the TV news, here and around the world. There were large and loud public demonstrations. The DEC set up a fund and sought to air a televised appeal, famously refused by the BBC.
There is no such clamour now. The Stop the War Coalition is not summoning thousands to central London to demand an end to the fighting, as it did then. On the contrary, its statements are content simply to oppose western intervention – of which there is next to no prospect – while politely refusing to condemn Assad's war on his own people. Caryl Churchill has not written a new play, Seven Syrian Children, exploring the curious mindset of the Alawite people that makes them capable of such horrors, the way she rushed to the stage to probe the Jewish psyche in 2009.
The slaughter in Syria has similarly failed to move the poet Tom Paulin to pick up his pen. Apparently, these Syrian deaths are not worthy of artistic note. The contrast has struck Robert Fisk, no defender of Israel. He puts it baldly: "[T]he message that goes out is simple: we demand justice and the right to life for Arabs if they are butchered by the west and its Israeli allies, but not when they are being butchered by their fellow Arabs."