So mull this one over.
Finns and Swedes spend 500 000 Euros on a sailing ship to rush themselves to Gaza (which took them around four months to complete) in order to help with the humanitarian crisis in Gaza's football league?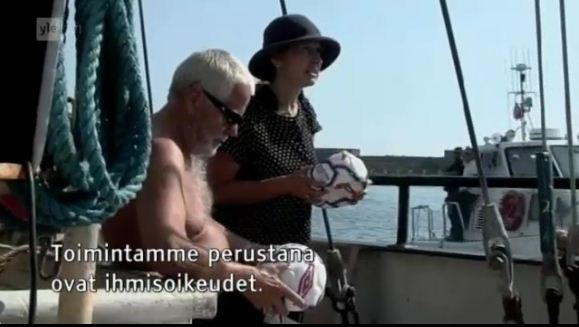 (Text reads: Our actions are based on human rights.)
UPDATE: Times of Israel reports that some of the crew were tasered, I can only hope that it was true. Meanwhile, Finnish FM, Erkki Tuomioja, states (h/t Vasarahammer) that the (anti-weapons) blockade is entirely legal, but it's immoral and should be stopped. So the FM is by default for allowing the Hamas to be free to import all kinds of weaponry that will be eventually used to murder Jews.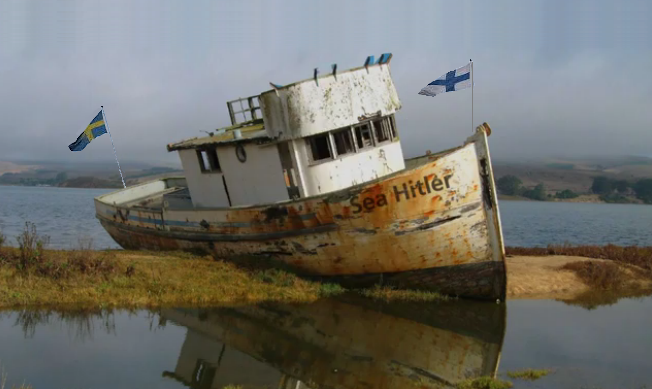 It's all about delegtimization of Israel on the world stage, pure and simple. These leftist clowns spend an enormous amount of money sailing from Finland, Sweden to the coastline of Gaza, when the money could have been given directly to UN aid agencies to help subsidize the Arabs of Gaza.
No matter how many time they try these stunts, they will only be viewed as peculiar leftards who are more interested in smearing the Jews than in helping the Arabs. So my advice is, keep it up morons, let it become such a routine event that you eventually spend yourselves into oblivion, while becoming an occasional odd feature in the nightly news.
H/T: POTB
Navy seizes Gaza-bound Finnish ship
Commandoes board ship carrying pro-Palestinian activists – including three Israelis – seeking to breach Israel blockade on Hamas-ruled territory; no violence reported. No humanitarian aid supplies found aboard ship, IDF says
Israeli Navy soldiers seized control of the Gaza-bound shipEstelle, which was seeking to breach Israel's naval blockade onGaza, the army's Spokesperson's Unit reported at around 11:40 am on Saturday.
The rerouted vessel arrived in the Ashdod port shortly after 9 pm. An initial search did not find any humanitarian aid supplies aboard the ship, the IDF said.
"Even the people aboard the ship know that there is no humanitarian crisis in Gaza, and that their entire goal is to provoke and slander Israel. If these activists really cared about human rights, they would have sailed to Syria.
"We will continue protecting our borders with might and determination," he added.