Yet another stark difference between the candidates.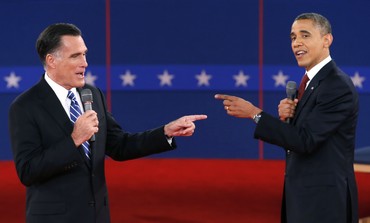 Romney: Israel does not warrant 'public warnings'
By HILARY LEILA KRIEGER, JPOST CORRESPONDENT
10/20/2012 03:41
In response to American Jewish Committee questionnaire, Republican presidential candidate pledges to support Israel as they weigh "decisions of war and peace" but fails to mention a commitment to a Palestinian state.
WASHINGTON – Republican presidential candidate Mitt Romney pledged not to issue "public warnings" to Israel as part of the Middle East policy outlined Friday in response to questions posed by the American Jewish Committee.
Both Romney and US President Barack Obama completed the questionnaire, which was posted on the AJC website.
"I do not believe that we should be issuing public warnings that create distance between the United States and Israel," Romney wrote. "Israel does not need public lectures about how to weigh decisions of war and peace. It needs our support."
At several points during the Obama administration, senior US officials have spoken of the dire consequences that could result from an Israeli attack on Iran. The instances, widely interpreted as a US warning for Israel not to strike Tehran, have caused tension in the relationship between the two countries.
In his responses, Romney never mentions a commitment to a Palestinian state, though the AJC never asks directly whether each candidate endorses the concept.
Obama, in contrast, wrote that, "The Palestinian people deserve a state of their own." At the same time, Obama stressed that peace can only be achieved by decisions made by the parties themselves, and that unilateral steps are not the way to get there.