MEDIOCRITY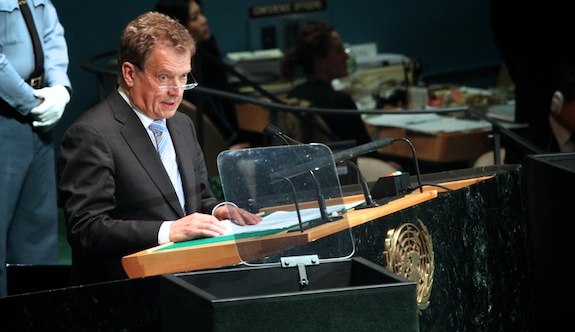 H/T: Harri
When you understand exactly what the U.N is, what it's comprised of, you'll then understand why the Finnish president's speech -that pandered to the worst elements represented in that organization- was an open attempt at schmoozing Finland's way onto the UN Security Council. In other words, he prostituted himself and the state before the freak show known as the U.N..
The U.N. is obviously deemed to be of great importance for Finland, which I can't blame it for, since all states act in the very same vein in the pursuit of their own self interests. But I for one, will not be cheering for Finland to chair a seat at the UNSC, I do not believe that Finland acts as an independent player (from principle) on matters unrelated to its own self interests.
I've watched for far too long Finnish political elite willing to side with the loudest voice in the room on issues of little self interest. I've seen them do it within the halls of the E.U. as well, time and again, where they consistently hide behind its skirts, basing their decisions not on principle but on the consensus of fellow E.U. member states.
But when it's in their own self interests, like in the fiscal brouhaha over Finnish loans to failed EU member states, they caused a huge ruckus abroad by insisting on special loan guarantees that became the envy of all the other member states who were loaning money to Greece. But when it comes to issues on foreign policy, they wait long enough till they have safety in numbers, then sign on to whatever 'consensus crafted' declaration etc..
I'm only going to highlight the portions of the Finnish president's speech that is poison to me, you can go and look at the rest after the quotes if you want. The speech is as odd as it is pandering, that you can bank on its having been crafted with all of the most nefarious UN member states in mind. That settles it for me.
Poverty reduction is the ultimate means to secure the peace in many parts of the world. That requires, above all, economic growth and a level playing field for all. Development cooperation can assist, especially in the least developed countries. Those countries that already suffer the effects of climate change are particularly vulnerable and in need of our support. Finland has a record, stretching over half a century, of being a reliable partner for developing countries. Despite well-known budgetary pressures within the eurozone, Finland has increased its outlays for development cooperation over the past years to an annual level of about 1.5 billion US dollars.
[…]
Finland is prepared to host a Conference on the establishment of a Middle East zone free from nuclear weapons and all other weapons of mass destruction this year. The task has been described as difficult but rest assured, we will do our utmost to fulfill it.
[…]
The Syrian conflict has overshadowed the Middle East peace process. This is something that the parties and the international community can ill afford. A two-state solution, within which an independent, viable and contiguous Palestinian state lives in peace and security with the State of Israel, is slipping out of reach. The Palestinians have waited patiently. The negotiations must restart. That is the only way. Renewed negotiations need to result in a sustainable solution that leads to the establishment of a Palestinian state while respecting Israel's legitimate security concerns. Settlements are squarely a contravention of international law and a growing obstacle to peace.