Not too far out of the picture to assume Hezbollah, with the coaching of the Iranian regime, are trying to bolster their street value in the region.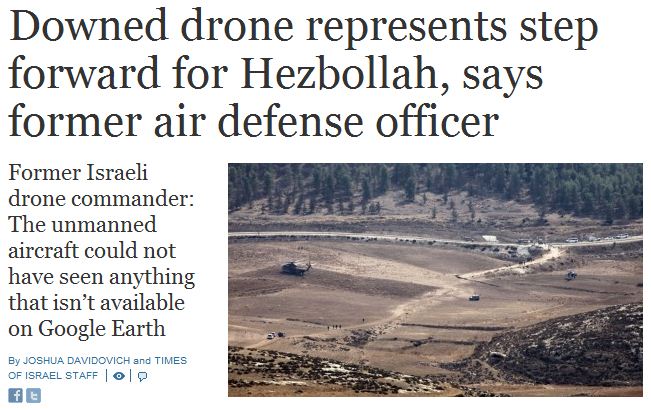 If the drone that invaded Israel's airspace on Saturday was sent by Hezbollah, as military officials suspect, it indicates a significant technological advance for the Lebanon-based terror organization, a former head of Israel's Air Defense Command said Sunday.
The long-distance control capabilities needed to carry out such a mission are a sign of Hezbollah's progress, Brig. Gen. (res.) Arye Fishbein said in an interview to Army Radio.
"We are familiar with this aircraft and its capabilities," Fishbein said. The drone's range is hundreds of miles, it can reach speeds of 185 to 250 miles per hour, and can carry a payload of 50 to 65 lb, he said: "The payload can be either a camera or a small bomb."
For Israel's enemies, he said, the alarm caused to Israelis by such an incident is often worth the loss of equipment.
On Sunday, Israeli officials were still examining the possibility that the drone shot down deep in Israeli territory on Saturday may have been dispatched in a Hezbollah-Iranian operation, and may have been sent to survey the Dimona nuclear site. According to foreign reports, the site houses Israel's nuclear weapons program.