There's a whole pathology at work in Breivik's sick mind, here's another interesting take by Fjordman.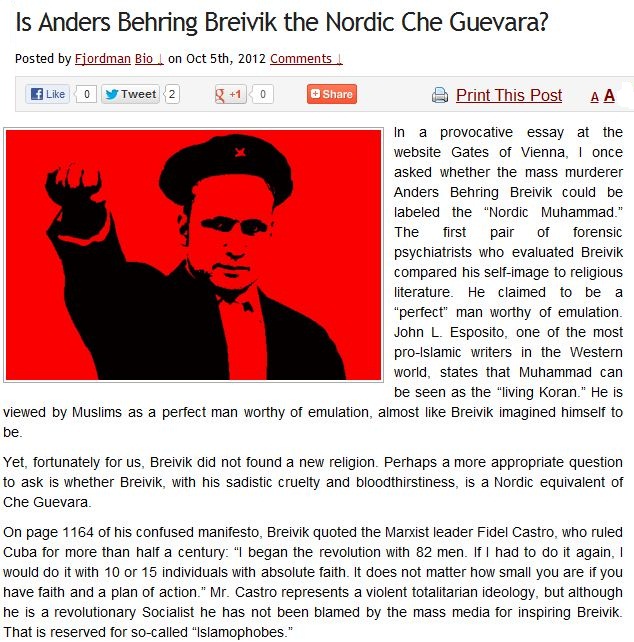 On April 23 2012, during the trial in Oslo, Breivik compared himself to the Marxist militants and revolutionary Socialists Fidel Castro and Ernesto "Che" Guevara. The latter has become a popular icon of rebellion and anti-capitalism among segments of the political Left throughout the Western world, his image decorating posters and t-shirts and used to sell everything from coffee mugs to key chains. ABB claimed that his alleged Knights Templar militant network had as much legitimacy as these Marxists did in their violent struggle to overthrow the ruling regimes.
This was, as usual, not emphasized much by journalists with Socialist sympathies. The Socialist Left Party, part of Prime Minister Jens Stoltenberg's coalition government, have resisted calls for a boycott of the Communist dictatorship in Cuba, but at the same time wanted to boycott goods from democratic Israel. Much the same may be said about the Labor Party's intimate and powerful partner, the Norwegian Confederation of Trade Unions (LO).
When Breivik greeted the court several times with a clenched fist, the press described this as a "right-wing extremist salute," without mentioning that virtually the same gesture has been used by the Black Panthers and modern Socialist rulers such as Hugo Chavez in Latin America or the Marxist terrorist Carlos the Jackal.
Peter Neumann, the Director of the International Centre for the Study of Radicalisation in London, claims that Breivik has changed our view of "lone wolf" terrorists radicalized by the Internet. The historian Nikolai Brandal, however, labels him a "hybrid terrorist" who sought inspiration from many different sources. During his court testimony, Brandal found it noteworthy that Breivik employs the term "urban guerrilla" for his style of warfare. This term was popularized in the 1960s, partly by the revolutionary international Socialist Che Guevara.