Just like in the good ol' days during the Cold War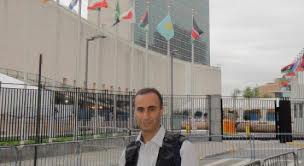 Cameraman who accompanied Ahmadinejad to UN Assembly seeks asylum in US, lawyer says
NEW YORK –  A lawyer for a cameraman who was accompanying Iranian President Mahmoud Ahmadinejad to the U.S. for the United Nations General Assembly in New York says his client has defected.
Paul O'Dwyer, a New York City-based lawyer who is representing Hassan Gol Khanban, confirmed Sunday that his client is seeking asylum in the U.S. He provided no other details.
It wasn't immediately clear when the Iranian defected or his current whereabouts.