This is a stroke of genius.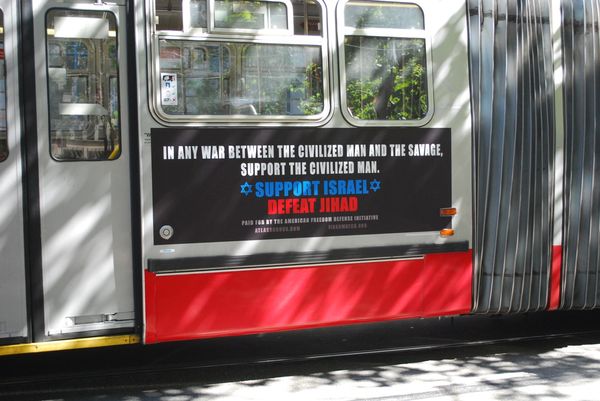 But first, lets go to the video tape, with the Ayn Rand interview on the Phil Donahue show.
Geller Agonistes—Truth in Advertising About the Jihad Against Israel
Even the NY Times [2] seemed revolted by the glorification of the August 9, 2001 Jerusalem Sbarro Restaurant homicide bombing carnage—an act of jihad terrorism committed by Hamas—"re-created" the next month with ghoulish joy, in a Palestinian Muslim exhibit whose entrance (complete with replicated Sbarro sign) is depicted in the photo above.
The September 26, 2001 Times report [2] included these grisly details:
Created by a student faction of Hamas…The most contentious section is a mock-up of the Sbarro restaurant in Jerusalem where 15 people were killed in a suicide attack in August including not only gnawed pizza crusts but bloody plastic body parts suspended from the ceiling as if they were blasting through the air
All of us who cherish Western free speech, particularly when it elucidates irrefragable truths, owe an enormous debt to journalist and author, Pamela Geller.
With courageous tenacity, and unflappable poise (listen to former New York Governor David Paterson's own eyewitness account of her appearance at the New York Metropolitan Transportation [MTA] Authority board meeting, 9/27/12 ), Ms. Geller obtained permission to post advertisements in the New York City subway system that appositely characterize the Palestinian Muslim—and larger global Muslim umma's—annihilationist jihad against Israel.
An earlier advertising campaign allowed by the MTA, promulgated the ahistorical Islamic supremacist narrative: that all of historical Palestine remains the "fay territory," or booty, of its 7th century Muslim jihad conquerors, who massacred, pillaged, deported, and enslaved the indigenous non-Arab Christian, Jewish, and Samaritan communities; ignored the fact that in 1922, 78% of the League of Nations Mandate for a Jewish Palestinian homeland, was arbitrarily used to create a Judenrein by law Muslim state, i.e. "Trans-Jordan" (see contemporary Jordan's law no. 6, sect. 3, April 3, 1954, reactivated in law no. 7, sect. 2, on April 1, 1963; p. 119, n 82); claimed that since 1948, Israel's defensive wars of survival deprived the would be murderous Palestinian Muslim community (abetted by Muslim nation armies, and jihadist volunteers, in the Middle East, and beyond) of some of the remaining disputed territory, while being responsible for "4.5 million Palestinian refugees"—at least six-fold the actual number of perhaps 750,000, and oblivious to the fact 900,000 Jews in Muslim lands, well removed from the battlegrounds in historical Palestine, were simultaneously made refugees via murderous pogroms, expropriations, and expulsions, between 1948 and 1967.