Gee, now that would explain that bow, now wouldn't it?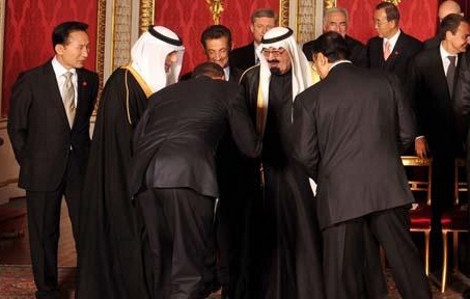 It would also explain Obama's ties to Rashid Khalidi, and the countless dinners with his family, even the one held at an event honoring this former PLO spokesman, of which there is a video that the LA Times is sitting on, refusing to make public.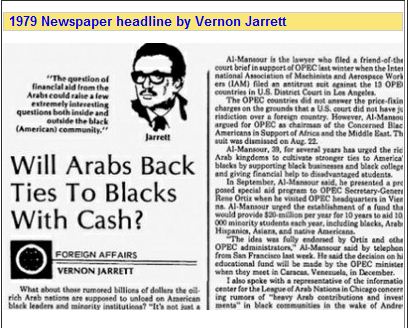 H/T: Reagan Coalition
From The Blaze: 1979 Newspaper Column Unearthed, Obama's Arab Ties Coming to Focus…
9/26/12
Here is the gist of the pretty in-depth article from The Blaze. Arabs were looking to gain influence in the United States by funding promising American blacks. Mansour is alleged to have helped Obama get into Harvard and even provide aid.
According to a newspaper column released in 1979 by Vernon Jarrett, father-in-law of Obama confidente Valerie Jarrett, President Barack Obama might owe his success to a very controversial benefactor.

The story is back in the news, and this time, Mansour's disavowals may be less easy to take. Reporter Frank Miele of Montana's Daily InterLake newspaper unearthed the following 1979-era newspaper column by Jarrett discussing a plan by several influential African-American businessmen with ties to the Arab world to funnel their cash toward promising young African-American students. Among those businessmen was Mansour himself.

The hitch? Mansour himself is quoted in the article. "The first indications of Arab help to American blacks may be announced in December," he is quoted as saying.

Now, as this column was written 9 years before Obama's admission to Harvard Law School, it's scarcely demonstrative proof of any involvement by Mansour with Obama's education, if indeed such involvement ever occurred.
Press release from the Jamaican University of Technology (emphasis added):
Al-Mansour who made news in 2008 when it was revealed that he had  been a patron of Barack Obama and had recommended him for admission to Harvard Law School in 1998, is co-founder of the International law firm of Al-Waleed, Al-Talal and Al-Mansour and Special Advisor to Saudi Arabian Prince, His Royal Highness Prince Alwaleed Bin Talal Bin Abdulazziz.