Welcome aboard!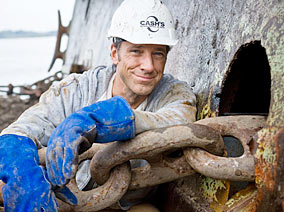 Mitt Romney is getting a little help from a reality show star whose gig aligns perfectly with the candidate's prime directive.
It's all about the jobs, or the lack thereof in the Age of Obama.
Mike Rowe of "Dirty Jobs" fame will campaign with the GOP presidential hopeful starting tomorrow in the crucial state of Ohio.
The Discovery Channel personality and Ford Motor Co. pitchman will offer his support Wednesday to Republican presidential nominee Mitt Romney at a public event in Bedford Heights.

Romney's campaign announced the Rowe endorsement late Monday when confirming Romney's Cleveland-area itinerary for the final day of a two-day bus tour through battleground Ohio.