Basically, Ahmadinejad is heading to the US to muck things up in the media, spread his propaganda, then leave, hoping to have sewn more uncertainty and distrust over Israel's (and other credible western sources as well) claims about their nuclear intentions with the U.S. media (international as well).
It would be great if none in the media, nor any politicians, engaged with the dictator during his time in NYC. That more than anything else would send signals to the Iranians that the jig is up. But, we all know that the leftist media is feckless, arrogant and wrong on just about every issue, and can't wait to slobber over his vitriolic comments.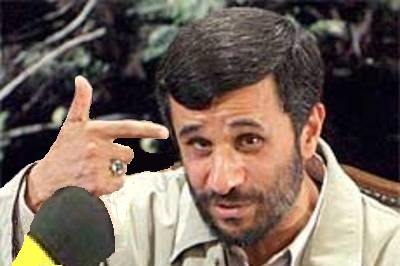 In New York, defiant Ahmadinejad says Israel will be 'eliminated'
By Louis Charbonneau
NEW YORK, Sept 24 (Reuters) – Iranian President Mahmoud Ahmadinejad said on Monday Israel has no roots in the Middle East and would be "eliminated," ignoring a U.N. warning to avoid incendiary rhetoric ahead of the annual General Assembly session.
Ahmadinejad also said he did not take seriously the threat that Israel could launch a military strike on Iran's nuclear facilities, denied sending arms to Syria, and alluded to Iran's threats to the life of British author Salman Rushdie.
The United States quickly dismissed the Iranian president's comments as "disgusting, offensive and outrageous."
Israeli Prime Minister Benjamin Netanyahu has hinted Israel could strike Iran's nuclear sites and criticized U.S. President Barack Obama's position that sanctions and diplomacy should be given more time to stop Tehran from acquiring nuclear weapons.
Iran denies it is seeking nuclear arms and says its atomic work is peaceful and aimed at generating electricity.