Sorry to keep pounding away on this, but it's such an important point that highlights the hypocrisy of the OIC. They're not really interested in any offense against religions (already by default deemed by Islam as illegitimate), but in securing a special place for Islam and its teachings. Sharia demands that no one can criticize their prophet and Islamic texts, including the non-Muslim. That is what this is all about.
Added to that is the antisemitism denial by the Secretary-General of the OIC himself, Ekmeleddin Ihsanoglu, who actually denied the existence of Islamic/Muslim antisemitism while speaking in a forum arranged by the Finnish Institute of International Affairs UPI .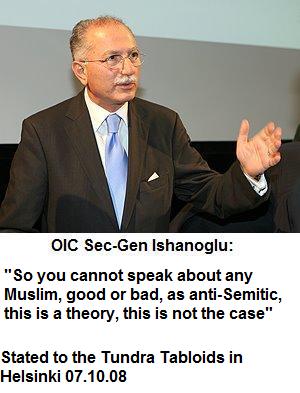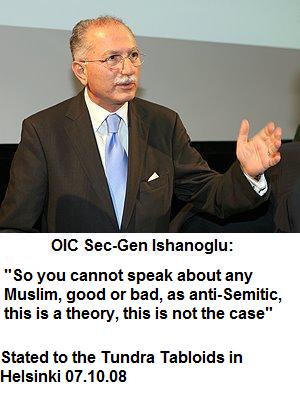 OIC to take up anti-Islam film
NEW YORK: The Secretary General Organisation of Islamic Cooperation Professor Ekmeleddin Ihsanoglu has said that the issue of anti-Islam film will be discussed at the OIC foreign ministers meeting in New York later this month, Radio Pakistan reported.
In a statement on Tuesday' he said that the coordination meeting will discuss all possible initiatives to reach a plan of action to address the escalating wave of incitement against Muslims.
Ihsanoglu added that since the broadcast of the blasphemous film' he had initiated an intensive diplomatic move and made high level contacts to formulate an international unified response.
The low-budget controversial film – "Innocence of Muslims" – portrays followers of Islam as gratuitously violent.