Usually the Daily Mail gets to the nuts and bolts of the story, but fails to in this piece published yesterday (14.9.2012). It's still unclear however, whether the man is in fact a Muslim convert, and if still a Sikh, why would he be threatening to murder his girlfriend for being unwilling to convert to Islam. Personally, I just don't get it.
NOTE: Also, is the woman daft? Why would she still be hanging around this guy if he's been making threats about killing her?
H/T: Scottish Infidel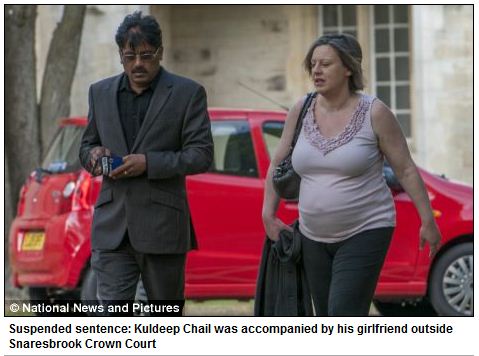 A man who threatened to slit his pregnant girlfriend's throat with a Stanley knife unless she converted to Islam was spared jail today.
Kuldeep Chail, 47, made the announcement about his girlfriend to a complete stranger he had approached at a bus stop, who was so disturbed by the threat he alerted the police.

Chail told Mohammed Malik that he wanted his 'white Christian' partner to convert to Islam, but that she 'woudn't listen', before showing the alarmed bus passenger a Stanley knife and making cutting motions across his throat.