Here is the full press release from the Simon Wiesenthal Center concerning Norway's Ombudsman for Children, Dr. Anne Lindboe and the announcement of a Norway Watch. I have been reporting about Norway and its fixation on Jews, Israel and the anti-Semitism that has resulted as a result of it. Honoring war criminals, banning Kosher slaughter for not using stunning, while promoting whale and seal hunting that is one of the most brutal ways in killing an animal, are just some of the examples.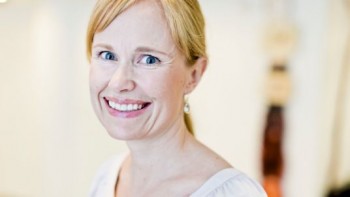 Wiesenthal Center Launches Norway Watch: Leading Jewish NGO Confronts Country's Children's Ombudsman Over Anti-Circumcision Stance; State Secretary Commits – "(Milah) Ban Will Not Happen"
Against the continuing firestorm over the criminalizing of ritual circumcision by a German judge, Simon Wiesenthal Center officials confronted Norway's Ombudsman for Children, Dr. Anne Lindboe (pictured) during a face-to-face meeting in Oslo to urge her to withdraw her call for a ban on male circumcision. While acknowledging anti-Semitism in her country, and expressing concern over the bullying of Jewish children in schools, the Dr. Lindboe refused to acknowledge that her position emboldens anti-Semites who denounce the age-old Jewish rite.
Dr. Lindboe, a pediatrician whose mandate is to protect vulnerable children, also dismissed as "irrelevant" the growing body of scientific evidence of the medical benefits that circumcision provides males. The Ombudsman admitted she never witnessed a circumcision of a Jewish infant, but insisted that "her opinion" arose out of her own experience.
"While Dr. Lindboe talks of defending the rights of children, the question is who will defend the rest of us from her ill-informed positions which cast a core Jewish rite as 'barbaric' and 'immoral' and suddenly puts Jewish parents in the same category as child molesters," said Rabbi Abraham Cooper, associate Dean of the Wiesenthal Center, who also met with senior German Government officials in Berlin over the burgeoning moves against circumcision and ritual slaughter of kosher animals across Europe. Mark Weitzman, Director of Government Affairs for the Simon Wiesenthal Center added that the "proposed circumcision ban is an assault on the basic right to practice one's religion without interference by the state, a right guaranteed by the UN and other international bodies to which Norway belongs."
Later, at a meeting at the Norwegian Foreign Ministry, State Secretary Gry Larson, sought to assure Wiesenthal Center officials and Ervin Kohn, President of the Norwegian Jewish Community, that a proposed ban on circumcision on Norway "will not happen" and that the Norwegian government stands behind its proposal that circumcision be allowed when performed by trained practitioners in hospitals. Larson emphasized that she wanted to be "very clear that the Government of Norway does not support the ban." During the meeting, both Rabbi Cooper and Mr. Kohn urged Norway's political leaders to overturn the ban on Shechita– the ritual slaughter of animals for kosher meat—a blatantly anti-Semitic piece of legislation that was passed in 1929.
"Until now, only tyrants and dictators tried to stop Jews from practicing the religion; now we are confronted with the possibility that democracies will pass laws that in effect signal Jews they are no longer welcome as equal citizens," Cooper added.
Center officials informed State Secretary Larson and Kristin Halvorsen, Minister of Education, of its new Norway Watch initiative that will track anti-Semitism in Norway as well as the support for the anti-Israel BDS (Boycott, Divestment and Sanction) Movements in the Scandinavian nation. "Norway, may be a small nation, but it has an oversized impact on the international community and global human rights," Center officials explained. "Frankly, instances of anti-Semitism in Norway have damaged Norway's international reputation," they added.
"We also hope that Oslo, as a prime donor of funds to the Palestinian Authority, use its immense leverage to ensure that those funds are used only peaceful purposes in a clear and transparent manner," they concluded.
During their three-day visit to Norway, Rabbi Cooper and Mr. Weitzman met with Norway's Minister of Education, to discuss the way forward for Norway's educational efforts to combat anti-Semitism, a topic also discussed with leadership at the Norwegian Holocaust Center.
The Simon Wiesenthal Center is one of the largest international Jewish human rights organizations with over 400,000 member families in the United States. It is an NGO at international agencies including the United Nations, UNESCO, the OSCE, the OAS, the Council of Europe and the Latin American Parliament (Parlatino).
For more information, please contact the Center's Public Relations Department, 310-553-9036, join the Center on Facebook, www.facebook.com/simonwiesenthalcenter, or follow @simonwiesenthal for news updates sent direct to your Twitter page or mobile device.