In the bastion of anti-Israel hatred, these are some real big numbers.
H/T: TINSC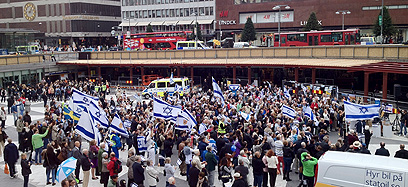 The event was very successful. "It was a great success. There were 1200 people at the rally, people from different parts of the world, of different faiths and political arenas. We showed unity and love and reflected Israel in a beautiful way. It was peaceful and beautiful and a very happy day. We had speeches, Israeli music and people were dancing and singing the Hatikvah in Sweden's biggest meeting place. It was absolutely beautiful.
1,200 people attend pro-Israel rally in Stockholm
Swedish capital hosts rare demonstration of solidarity with Israel; ceremony ends with crowd chanting Hatikvah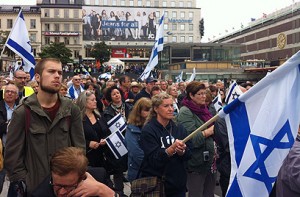 WZO CEO Eitan Bachar said that "This is the first time in a decade that Sweden is holding any event of this kind, certainly in such a central location."
Several pro-Israel activists spoke during the ceremony, which ended with the crowd chanting the Israeli national anthem, Hatikvah.
Mid August saw several hundreds of Swedish Jews and pro-Israel supporters march in Malmo, in the southernmost province of Scania, to raise awareness to the growing anti-Semitism in the area.
NOTE: Remember, this is a a country in which even the faux conservatives are promoting international terrorism against Israel, like Carl Bildt and his greeting the terror supporting activists who tried to run Israel's legal anti-weapons blockade of Gaza on board the Turk's ship, the Mavi Marmara. Ilya Meyer has the full scoop on Carl Bildt and Sweden.