The charge should actually be incitement to commit acts of violence. There is no place for such thinking in any kind of discourse, public or private. Praising a cold blooded murderer is in fact incitement to violence, at least in my opinion, he should be placed alongside those who praise Charles Manson and cop killer Mumia Abu-Jamal, though lunatic praise for Brievik stands in a class all by itself.
H/T: Scottish Infidel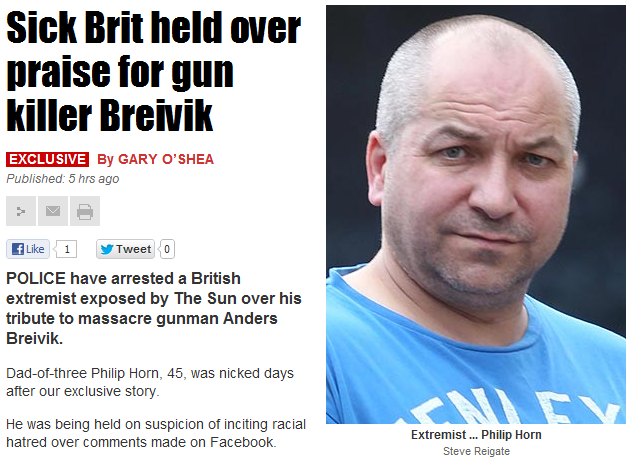 Father-of-three arrested after praising Anders Breivik for trying to stop 'invasion by the Muslim population' on Facebook
Philip Horn says he 'takes his hat off to mass murderer
Horn is thought to have links with the English Defence League
By DAILY MAIL REPORTER
PUBLISHED: 19:26 GMT, 31 August 2012 | UPDATED: 19:43 GMT, 31 August 2012
A British dad has been arrested on suspicion of inciting racial hatred after praising mass murderer Anders Breivik on Facebook, it emerged today.
Philip Horn, 44, allegedly said on the social networking site that he 'takes his hat off' to the infamous gunman.
The Norwegian slaughtered 77 adults and teenagers when he bombed government buildings in Oslo and carried out a mass shooting on the island of Utoya in July last year.